By Corrina Taylor
Director of Social Media
Living with your parents is hard enough when you are in high school; imagine you and your young daughter moving in with them after a divorce.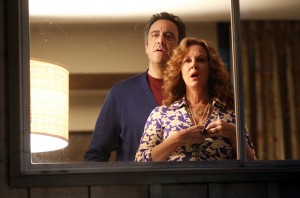 ABC's newest show "How To Live With Your Parents (For the Rest of Your Life)" tells the story of single mom Polly (Sarah Chalke) and her daughter Natalie (Rachel Eggleston) who move in with her parents Elaine (Elizabeth Perkins) and Max (Brad Garrett) Green.
The pilot on April 3 had its funny moments; too bad they put all the comedy into to the several scenes used in commercials. The rest of the episode was painfully forced; they tried too hard to make the audience laugh.
The show begins with Polly showing up on her mother and stepfather's doorstep, apparently interrupting them in an intimate moment. This moment was supposed to commence laughter, instead brought about uncomfortable silence.
There definitely are some bumps in the script; obviously meant to be funny, but resulting instead in a forced, awkward laugh. Most of the scenes revolve around the Greens as crazy parents who make you you laugh off and shrug your shoulders, but instead I wound up dreading every time one of them showed up on screen.
The "over the top" parents are over played; we get it – your parents are crazy. It seemed as if the show felt the need to keep reassuring the audience that Polly's parents are not normal parents.
When the Greens babysat Polly's daughter, they have the potential to get a knee-slapping laugh from the audience, but it instead turns out to be the most boring part.
When they take her to the pound to adopt a dog, they reveal Santa is not real and her mother is on a date. Classic sitcom moments I've seen countless times.
As if that were not enough, they keep pushing Polly's ex-husband Julian (Jon Dore) into the picture. He adds nothing to the show; he pops up at unwanted times and is not even funny when he does. He is just an annoyance.
If ABC plans on turning this show into a love story with the ex-husband trying to get his wife back, it will ruin any potential the show has.
The first episode of any show is bound to be hard to get into; it's difficult to introduce so many characters in only a half hour. The first couple of episodes in the season will probably be just as awkward.
I don't know if it will have the potential to be as great as other ABC shows, but it could gain popularity. I doubt that I will keep up with this show. There are other shows that are better at capturing attention and keeping it.
Rating: C+