Let There Be Zombies premiere to reunite creative, hardworking community
By Erica Rohde
Staff Writer
According to filmmakers, the making of a film is a roller coaster.  Each person brings a unique addition to the table, but they all have something in common; they want to see the same dream come to fruition, no matter the difficulty.
Within a two-year span, a group of artists, directors and actors came together to create a film about zombies to portray the horror that one cowardly school teacher may feel when she must take charge during a zombie apocalypse.
All of the blood, sweat and tears, not to mention the laughter, friendship, and teamwork behind the scenes of Let There Be Zombies is implied as the film will be shown at its premiere coming up on May 25 at the Lakewood Theater in Dallas starting at 7 p.m.
Coppell High School history teacher and film writer/director Andrew Patterson may have thought of the initial idea for the film, but he knows that it is about much more than his own idea; it is the summation of a massive group of people helping each other out.
"What we were able to pull off was insane because there were a whole bunch of people who believed in what we were doing," Patterson said. "If they gave a little amount, it went a super long way. As we will go to the premiere we look forward to seeing something bigger, bigger in a sense of the number of people and bigger as in something larger than ourselves."
It is a rewarding feeling to the cast and crew to finally see the movie premiere because the film was not done easily. There were always obstacles and doubt.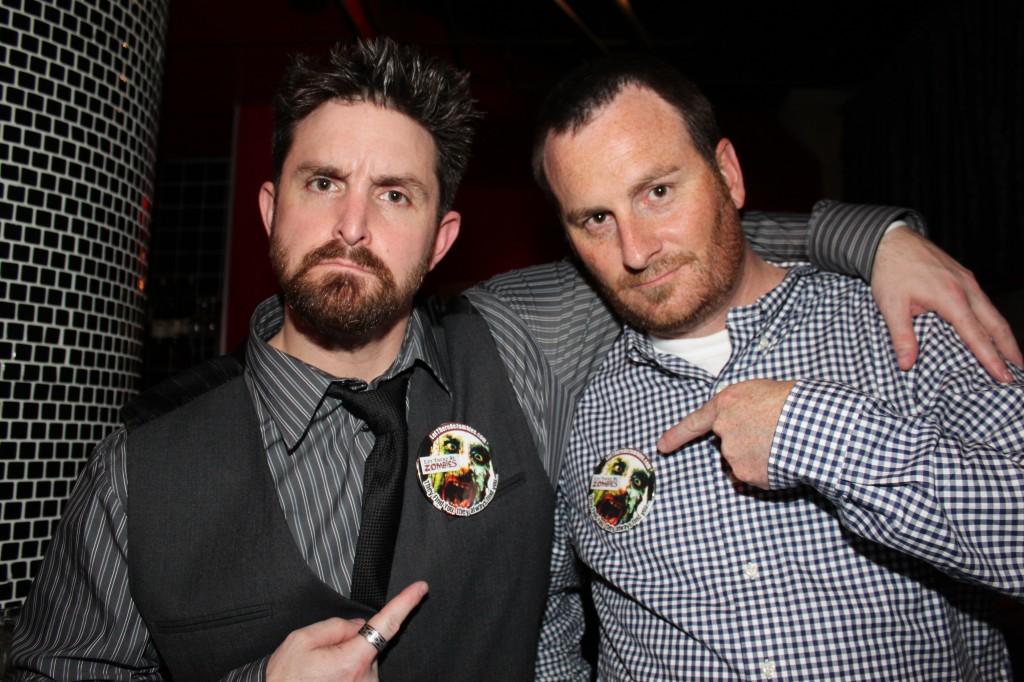 "I know how I felt, and a bunch of people felt the same way," English teacher and director Matt Bowden said. "Patterson got you motivated. The celebration of finishing is bigger than anything we thought, because we had all of these challenges, trials and tribulations."
The cast and crew had troubles behind the scenes such as struggling with funding for the project, trying to get people to commit, scheduling filming and shooting ten days straight in the heat of the Texas summer. One cast member collapsed, people stayed in hotels, on the sites, and shooting would go until 1 or 2 a.m. Another challenge was running about 50 zombies through a tent when there are only a few makeup artists.  People who had never done makeup pitched in.
Patterson kept people motivated, but even he knew the realities of film making no matter how fun it may be
"It was the hardest thing I have done in my life," Patterson said. "What is hard is keeping people working around a vision for that long. It took little miracles every week. People would be thinking 'how can we even do this?' It is painting the picture over and over again."
Even though it was difficult for Patterson, he received support from cast and crew as well as his family.
"Everybody in the circle of family and friends got behind the film," Patterson said.  "My wife pretty much carried me through the film emotionally. She was also one of the most important crew members."
Other crew members include CHS students, directors and employees of the FilmPatterson company seniors Adam Borel, Josh Brunelli, Mason Adams and Joe Han. Other CHS students on the crew include juniors Maddie Trout, Griffin Smith, Casey Klinger and Kilian Bresnahan.
Through learning more about film, Han, who served as the film's administrative director and script supervisor, has learned one of the main lessons of film making.
"What is a production without doubt or risk?" Han said. "The studio is not going to invest automatically thinking it is going to be successful. Knowing we all put risk in it, that we survived, it gives us hope that making the movie is probable."
When people came on set, auditioned and volunteered their time, they were all in agreement about where they wanted Let There Be Zombies to go in the near future. Their hope for this goal and many others kept them moving.
"The goal has been to send it to film festivals and hopefully it could have a good showing at some decently recognized festivals," Patterson said. "Because of a zombie culture, it would have a good chance of being picked up by buyers. We would want it to be picked up by a distributer."
The first step is the premiere that will be held in an 800-seat theater and the after party will include a performance by Graceland Ninjaz.  The premiere will be a red carpet experience.
"The cool part is we originally had it at another location that was not big enough," Patterson said.  "We had to move it to a larger location. Now we are in a historic, traditional feeling theater which will be exactly what we need."
More information about the premiere can be found at lettherebezombies.com.