By Andy Tabor
The Coppell Cowgirls were rewarded for their hard work and talent Wednesday, when eight seniors were allowed to finally sign commitment letters to their new colleges. Members from the softball, girls basketball, and volleyball teams were showcased yesterday.
The softball team had the most signees with six all going to different universities. Senior Laura Ramos signed at the University of Texas at El Paso, senior Tricia Van Winkle signed to play at Louisiana Tech University, Kelsey Latta signed with Tarleton State University, Madison Buckley signed on to play at Southern Arkansas University , and Amber Clifford signed to play for Southeastern Oklahoma State University.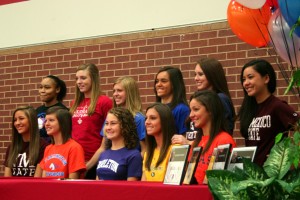 Senior Marisa Malazzo signed to play at Big 12 school Kansas which was the biggest university that an athlete signed to on Wednesday.
The lone basketball player to sign was senior Malaika Green, who along with Rachel Forshaw for softball, signed to play for University of Texas at Arlington.
As for the volleyball team, each captain signed, Deirdre Pajares and Shelby Tamura both signed to New Mexico State University and Taylor Meade signed to Louisiana at Lafayette.
Each girl was thrilled to be starting on a new chapter of their lives with this commitment to play at the next level. Each girl would go up to the stage at the cafeteria to sign along with their families. Each family member was all smiles while pictures were flashed and memories were created.
"It's great that I can sign and commit to college." Meade said. "I can't wait to begin the next chapter of my volleyball career in college."