Red Jacket buttons show leadership at CHS
By Rebecca Fowler
Sidekick Staff Writer
and Bayley Zarrehparvar
KCBY
By now, everyone is familiar with Coppell High School's Red Jackets, who were first introduced to campus last year.  They are the faces of CHS, hosting various events, giving the announcements and always being there to help out and answer questions.  The Red Jackets are respected seniors who can easily be spotted by their flashy…well, red jackets.
On Oct. 15, the Red Jackets attended a leadership retreat, sponsored by Jostens, at First Baptist Church Coppell.  Speaker Lisa Spain, a former teacher and current educational consultant, gave an inspirational lecture and handed out buttons to go along with her message.
She placed buttons with various messages written on them at each table, instructing each student to take one and give it to a different student at the table.  Character traits were written on the buttons, such as "respect," "tolerance," "citizenship," "confidence" and "honesty."  These simple buttons were designed to act as conversation starters as well as igniters for a leadership movement across Coppell High School and the community.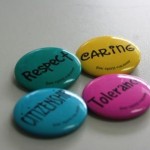 "It was an interesting thing we did, placing buttons on each other so we could see what we liked about one another, " Red Jacket Dami Salako said.  "It's not something you usually get to tell people in person."
The Red Jackets discovered the best qualities in their peers and themselves through this project.
"She challenged us to wear our button for a whole week at school and then pass it on to someone else," Red Jacket Sarah Margaret Pittman said.
The assignment was intended to induce a desire for stronger characters and better citizens among CHS students, causing them to start down the path of creating a better society.  The buttons remind Red Jackets of their purpose and responsibilities, while also others to jump-start this movement. 
"I hope they learn that they have some unique things to offer," counselor Mindy McMinn said.  "And they can pass along the same encouragement to others."
The intent is when a Red Jacket sees someone with his or her button on that has been passed from person to person, he or she will realize the success of the project and the difference one person can make.
"The more people know about it, the better it will work," Pittman said.
Though this is the first time for the Red Jacket button project, CHS hopes it will be successful enough to continue in the years to come.
"Like anything else new, it is student-driven," McMinn said.  "I have no doubt that it will be successful and have positive results."
So if you see someone with a Red Jacket button, ask them about it.  You might just become the next piece in a wonderful movement spreading through Coppell High.