By Jay Carroll
Staff Writer
Isaac Lozano sat with his son, eating the assortment of foods that were available to him, and watching people big and small wait in lines and partake in activities at this year's Oak Fest.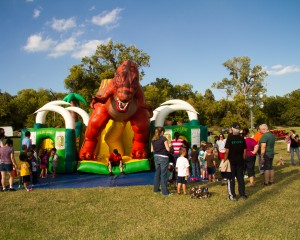 This year Coppell held the annual Oak Fest on Oct. 20, at Andy Brown Community Park East, from 3 p.m. to 10 p.m. Oak Fest is an event in Coppell, which occurs every October; there is an assortment of food and activities for all ages, including a rock wall, obstacle courses, bounce houses, along with food like kettle corn, hot dogs and much more.
"We came to Oak Fest this year because we have never been before, and it was a beautiful evening." Coppell resident Isaac Lozano said.
The weather was perfect for such a large event; it was in the low 80's, clear skies, and a slight breeze. Which drew a lot of people to attend the annual event along with the bands that were playing.
"The music has been pretty good tonight as well," Lozano said. "We will definitely be coming back next year."
While an event like this is fun to attend, many do not realize what it takes from police officers and emergency services to run such a large gathering, the Coppell Police and Fire departments have their hands full every year with Oak Fest. The police have to set up places to park for people who drive to the event, and the officers must also attend a briefing prior to the event starting.
"We have a contingency plan for most things that happen," Sergeant Smith of the Coppell Police Department said. "And we also have to bag the signs on Parkway so people can park there without breaking city ordinances."
The police officers usually do not have issues with unruly kids, but the biggest problem is making sure that kids go home with whom they belong to.
"Our main thing is making lost children," Sergeant Smith said. "We have to make sure they go home with their parents."
People often do not consider everything it takes to make sure that everyone at Oak Fest or other city events stay safe at all times.  The Coppell Fire Department has a trailer where they can focus on weather conditions, and even dispatch officers to tend to emergencies.
The software that is on the fire trailer is very high-tech, the trailer has a radar, and a monitor that sits on top of the trailer and can tell the wind speed and directions, and can even predict where the plume of a hazardous spill or fume will be heading, this system can be utilized in the worse-case scenarios, but if you wish to have one for yourself at your house, its over a couple of thousand dollars.