Laughter, athleticism remembered in time of loss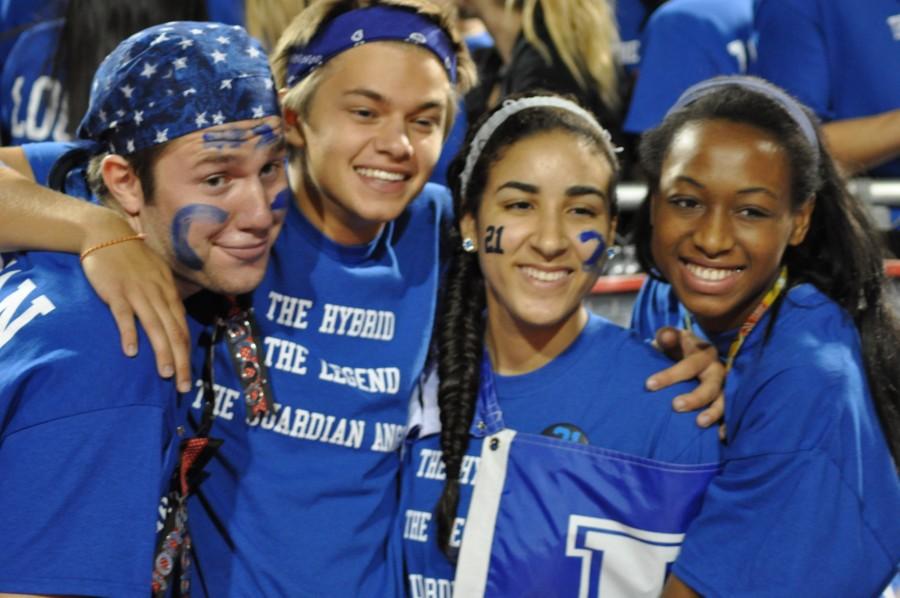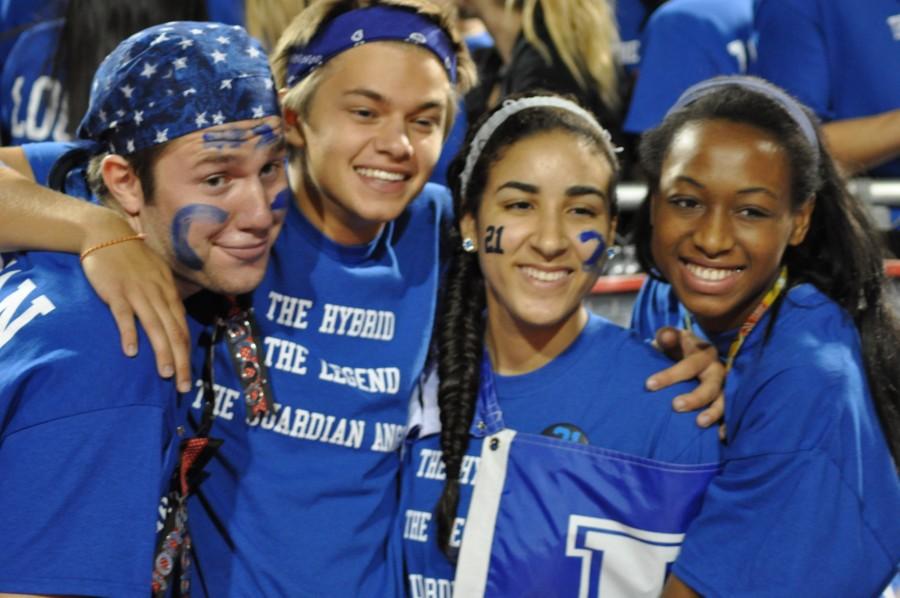 By Julianne Cauley
News Editor
On Oct. 14, hundreds of students, parents and faculty gathered in the stands and on the turf of Buddy Echols Field to lift prayers for the Logan family as well as comfort friends mourning the loss of beloved teammate and friend, Jacob Logan.
Earlier that afternoon, Logan had been at Possum Kingdom Lake celebrating a fellow teammate and friend's birthday. After jumping from a cliff without a life jacket, he never resurfaced. After five days of searching, the diving and rescue team found Logan's body at 9:21 p.m. on Oct. 18.
"It honestly is impossible to describe him in one sitting; that is just how special he was to me," senior Seth Slover said. "Two words I continue to go back to are dynamic and influential. He was funny, he was athletic, he was charismatic and he was smart. He had a lot of stuff going for him and people were just naturally drawn to him. Jacob truly valued everybody and it didn't matter who you were – he would still take interest in you."
Logan was very humorous and always conscious to include others. If he was there, it was sure to be a good time. He truly loved everyone and had a passionate relationship with God. He understood the importance of living life to the fullest and stood for what he believed in.
Logan's impact on others has been evident through community support. Sophomore Peter Leach and cheerleading coach Tiffany Ganss designed blue T-shirts reading "The Hybrid, The Legend, The Guardian Angel."  Senior Henry Busch sold blue bracelets and senior Logan Hawk sold blue "21" car decals in order to contribute to the Jacob Logan fund at Frost Bank benefitting the Logan family.
"We as students are not invincible," senior Chiaka Ogbogu said. "In times of hardship like this our community has really grasped each other and embraced each other with open arms. This community has really become close and more appreciative through all this and that truly is a blessing in this time of loss."
The familiar black sea of a student section has now turned to blue waters. While the same cheers and flags remain, the football team is led on to the field by a new flag marked with Logan's number: 21. The anthems of the crowd and the motivation of the players have a new driving force behind them.
A starter since sophomore year, Logan's experience set him apart from many of his teammates. His absence is felt by all as he played such a crucial role as a punt and kickoff returner, wide receiver and defensive back.
"Practice is different, and at first, you know after days go by you just try to become normal," Coppell coach Joe McBride said. "There is a huge void though now because he was such a significant guy, worker, and leader that is just not there. In the game now because of what has happened there is that same void. The kids and everybody feel it just because he was such a significant guy. What it comes down to is how we concentrate on that void and still compete to play and win on a high level."
His great amount of talent and experience made him a great leader. Junior defensive end Solomon Thomas played with Logan and looked up to him as a mentor and brother.
"[He was] an overall funny person and great leader, and I am not alone as I find him as someone to look up to," Thomas said. "The irony of it was you could always look up to him, even while he was making fun of you or poking fun at you. Jacob would always try to get me motivated and pumped up during workouts so I would work harder. I will always remember him messing with me during practice and saying somebody else was better than me. He just constantly tried to make me mad so that I would work harder, and that's one of my favorite things about him."
Replacing Logan is impossible, but the team is doing everything they can to honor his legacy as a Cowboys football player. From helmet decals to blue socks and wristbands, the players are keeping Logan in their hearts every moment they are on the field.
Before each game, Jacob's sister, sophomore Jordan Logan, walks in Jacob's place as the fourth team captain as she participates in the coin toss with Thomas, senior Tanner Masters and senior Leighton Light.
"It meant a lot to wear Jacob's jersey during the football game, but it just wasn't the same," Jordan said. "He meant so much more to the team than I do, but it is still such an honor to step into that position and try to take up what Jacob had on that team. He was such a great leader and everything about him is so hard to replace, but I am glad that he is still being honored and represented on the field."
As such a key component of the Coppell team, Jacob's absence is still hard to settle.
"It really feels like he should still be out there sometimes," Slover said. "Everyone has done a good job on Friday nights of honoring him and the team played in his honor and I think they have been good nights. Fridays will forever have a different and new significance now this year."
Jacob was well known on the field for his athletic ability, but he was respected for his outstanding humble character.
"I will never forget my best friend's great athleticism, but I will always admire his humility and ability to lead," Slover said. "I specifically remember the Allen game and how Jacob gave all the glory to God immediately after the big win that most athletes would have attributed to themselves."
Following the game Jacob tweeted: "At the end of the day you have to give the glory to Him. We beat a very good team, but we haven't accomplished the mission yet. #State."
"Jacob is not the kind of person to be soft," Slover said. "He had a pretty hard shell, and he would never tell you that you were his best friend or go around telling people he loved them. He acted in a loving way; he just never said it to his bros. But this moment I will never forget. After the Allen game when everyone was on the field we made eye contact from nearly 40 yards away and I just pointed to him and started saying 'My boy! My Boy!' I ran over to him and I thought he was going to give me a high five or something, but instead he gave me like this huge big hug and I was just so shocked. It was so recent and he just showed so much emotion that I will just never forget that moment."
Only five days after the accident, the Cowboys took the field against the Flower Mound Jaguars.
"Our first Friday night game was just flat out hard," Thomas said. "I am not going to say it wasn't because it really was. Jacob was the guy who I had the best relationship with on the field because I would always talk to him and him to me and he would always pump me up play after play, drive after drive. I don't have that guy to talk to on the field now, that guy to keep me going or that guy to tell me what to do. It was just different and the team really struggled in moments of the game."
During the weeks after the accident, McBride stood as a rock for a team struggling to stand strong.
"Without [McBride] all this would have been so much harder," Thomas said. "He has been telling us what we need to do in order to let this impact us forever, but at the same time move on to normalcy, or the new normal. He really has showed us how he believes Jacob would want all of us to be like. Coach [McBride] has also really emphasized how much he cares for us and loves us. He has shown us abundant sympathy, but has also encouraged us to move on and keep on fighting for our mission, Jacob's mission, to keep going on and win State."
Jacob had a great passion for winning. He had a great passion for his teammates and he had a great passion for doing great in the playoffs and ultimately winning state. He developed a great standard and mentorship of how to do things that the players remember well and want to follow and honor him in how they play.
"It is my duty as the head coach to do everything that I can to fulfill that mission that Jacob wanted and these kids also follow him and want the same things that he wanted," McBride said.  "As the coach, although my heart is broken, I have a job of leading a group of guys to accomplish a task and a goal. The tough balance is trying to give them care and love but also the tough leadership to get us where we need to get."
Jordan spoke to the team and encouraged players to the play their hardest every single moment and really play for Jacob in a way he would be proud. She encouraged them to cherish every moment they have with this team because she knows that Jacob truly did.
"It's hard not seeing him on the field because whenever we needed a big play or player I used to always say and think 'Just give it to Jacob! Just give it to Jacob!' because I just knew he was so dependable on the field and would make the play happen," Jordan said. It's hard for me not to see him there since he was just such a huge part of it all. I know he is still there with all the guys. He is more powerful now than he has ever been before for this team."