Swift paints the town red with new album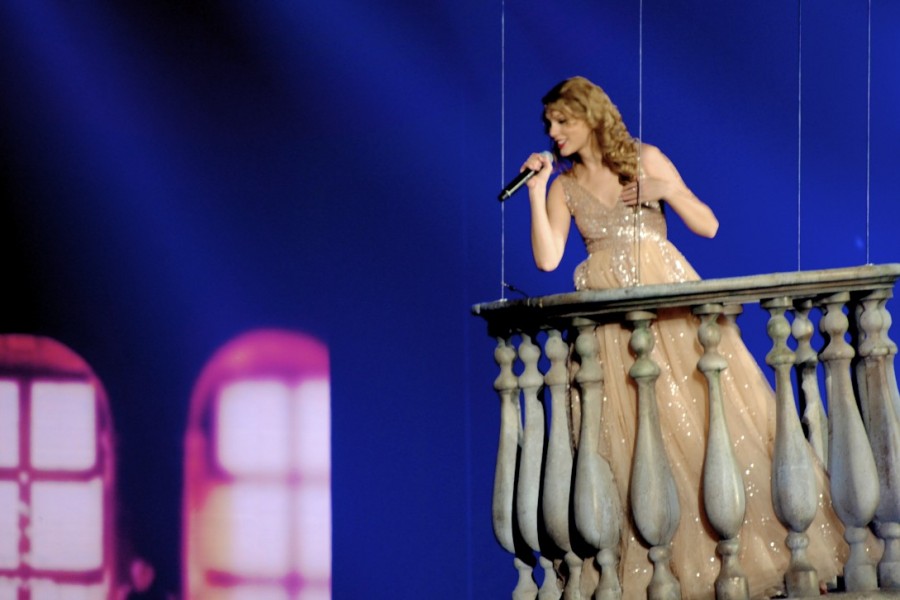 By Christina Burke
Features Editor
Behind the sparkles, theatric shows and extensive boy troubles, 22-year-old Taylor Swift has proven herself capable of capturing multiple audiences around the world. Swift has come a long way from her country music start in 2006 to create an almost unnamable genre of music that millions of people love to sing and dance to.
After the world tour of her last hit record Speak Now, released in 2010, Swift's new album was rumored to be in the works. A year after everything with Speak Now ended, the recently quiet artist stepped back out into the public to announce her next album Red, which was to hit stores Oct. 22.
During the wait for Red, Swift treated her fans to five singles off the album. The first to come was titled "We Are Never Ever Getting Back Together."
I have to admit, I was a little worried when this song came out as the face of Swift's new album. I knew that Swift was gradually moving her music in a different direction, but I was not expecting the full on pop explosion of  "We Are Never Ever Getting Back Together."
To my surprise, the vast majority of her fans liked the song just because it had her name slapped under the title. I was just hoping that Swift would deliver in the rest of Red what she had in her previous three albums, and she did.
The track "State of Grace" kicks the album off by starting with the type of catchy drumbeat you just have to tap your foot to. With an almost alternative rhythm, this track proves Swift to be an artist beyond one genre.
The album's namesake "Red" is the second song. This track is much more typical Swift with a twist, beginning with a slower guitar strum and quickly moving into a faster paced song that fans will go crazy about.
Next, the album takes a shift into its first slow song "Treacherous." This song has a quiet beat in the background, allowing Swift's vocals to really take the lead for the first time on Red.
"I Knew You Were Trouble" threw out a major twist after the first minute: dub-step. I have to say I was not expecting Swift to reach across so many different sounds in one album, but it is actually really catchy.
Slowing the album back down with "All Too Well," Swift takes the lyrics to a more personal level letting the story of the song overtake the common country rhythm of the song.
The album immediately picks back up with "22," a song with an auto tuned pop beat that celebrates Swift's life at age 22.  I believed this track to be out of place and unnecessary.
"I Almost Do" is a complete pace changer. Swift slows it down again by telling another one of her personal stories while an acoustic guitar takes over the rhythm.
The next track on Red is "We Are Never Ever Getting Back Together" followed by "Stay Stay Stay," which keeps up the fast pace of the previous song by utilizing the fast strums of a ukulele and building into a variety of fun sounds including claps, symbols and accents of a base guitar.
"The Last Time" begins with a deep piano tune as Gary Lightbody of Snow Patrol begins the first verse of a duet. Lightbody's and Swift's voices come together nicely to create a different, but captivating sound.
It is not long before the faint guitar strums in "Holy Ground" are overtaken by a fast past drumbeat and the sound of Swift's voice. The beat created in this track is definitely not Taylor's typical country and is catchy.
"Sad Beautiful Tragic" once again slows down the pace of the album beginning with a slow guitar rhythm and sticking with it throughout the song. The lyrics Swift conveys in this song share heartbreak.
Beginning with a catchy drum beat and continuing with Swift's vocals leading, "The Lucky One" portrays the negative aspects of being famous. In this song, Swift uses powerful phrases to describe the difficulties of the life many think would be so easy.
"Everything Has Changed" begins with an acoustic guitar and Swift's most simple vocals. At the chorus, singer Ed Sheeran joins her for the melody of the song, and their voiced continue to work together in sync for the rest of the song.
With a piano melody in the background, "Starlight" begins fast paced with Swift singing about a magical night. As a drumbeat carries the song on, the lyrics portray the love story of two teenagers in 1945.
The last track on the album, "Begin Again," leaves Swift's fans with a country song about falling in love after heartbreak.
As Swift attempts to take new approaches with her music, her already vast numbers of fans continue to support her. They have already deemed the album a huge success and the change in direction she takes might actually gain her supporters. Swift has done it again.