By Thomas Hair
Opinions Editor
Now in his second year as Coppell High School's principal, Jasso's transition period is over and he is ready to implement his own vision for CHS.
After serving as an assistant principal in Coppell from 2000 to 2005, Jasso departed to become the principal of Haltom High School before returning home, so to speak, last year. Jasso's first year back wearing red and black was largely a process of becoming reacquainted with the inner workings of CHS and the parents and community.
"We were able to transition from a hugely popular and hugely successful principal in Mr. Hunt to a new guy in town without the school falling apart," Jasso said. "We've got a lot of data to point to that shows that we did that successfully, that we are still a strong school and hopefully getting stronger."
Since last spring, Jasso has repeatedly stressed to his staff to prepare for the transformations that will begin this year. The second-year principal expects every teacher on campus to "transform" the way they teach – to employ new and innovative ways of instructing students. "He [Jasso] is very interested in leading the way in transforming education," English teacher Samantha Neal said. "His aim is not to follow the way that education is changing, but for us to really be the ones leading those changes."
Jasso's emphasis on reinventing education and developing 21st century learning styles is already evident on campus. This year, CHS has added several new blended learning and virtual classes.
In these new virtual classes (offered only for government and economics this year), the textbook and the vast majority of the coursework is completed online on a program called GradPoint. Students are only required to meet in the classroom with the teacher one or two times per week. This allows students much more freedom, but they must attend remediation if they do not keep up.
These new virtual classes fit into Jasso's goal of making CHS a place that prepares students for the real world, where technology is paramount and teachers are not constantly reminding you of assignments.
"I would bet that 100 percent of students who go to college for four years will take at least one online class," virtual government teacher Brian Johnson said. "Next year, when these kids are in college they'll need to understand time management and working at your own pace."
A new, state-of-the-art computer lab, dubbed the "Virtual Blended Learning Lab," is now available to all students enrolled in Virtual Classes. Located in upstairs C Hall, the cutting edge lab includes sofas, couches, collaboration stations and spaces designed for students to use their laptops and wireless devices.
Another way Coppell teachers are pushing the boundaries of innovative teaching styles is with the new FLIPPED method, currently being tested by certain math classes. In FLIPPED classes, students watch their teacher's lecture online at home and then do the "homework" at school the next day, where a teacher can help them.
CHS is even revamping the way that students and their parents receive school news. Instead of the traditional newsletter, campus news will now be delivered primarily through Facebook. Jasso recently launched an official Coppell High School Facebook page on which he will regularly post valuable news and information.
"I've talked about how I expect teachers to learn how to do things differently," Jasso said. "Well, that relates to us [administrators] as well with trying to maintain updated information with students."
So far, the response to the Facebook page, already with hundreds of likes, has been quite positive.
As Jasso goes about trying to make CHS a local leader in modern education techniques, he expects teachers to be "all in" with the changes. As a result, "all in" has become the year's theme for the staff. Jasso gave some teachers a poker chip to go all-in with to help illustrate the theme.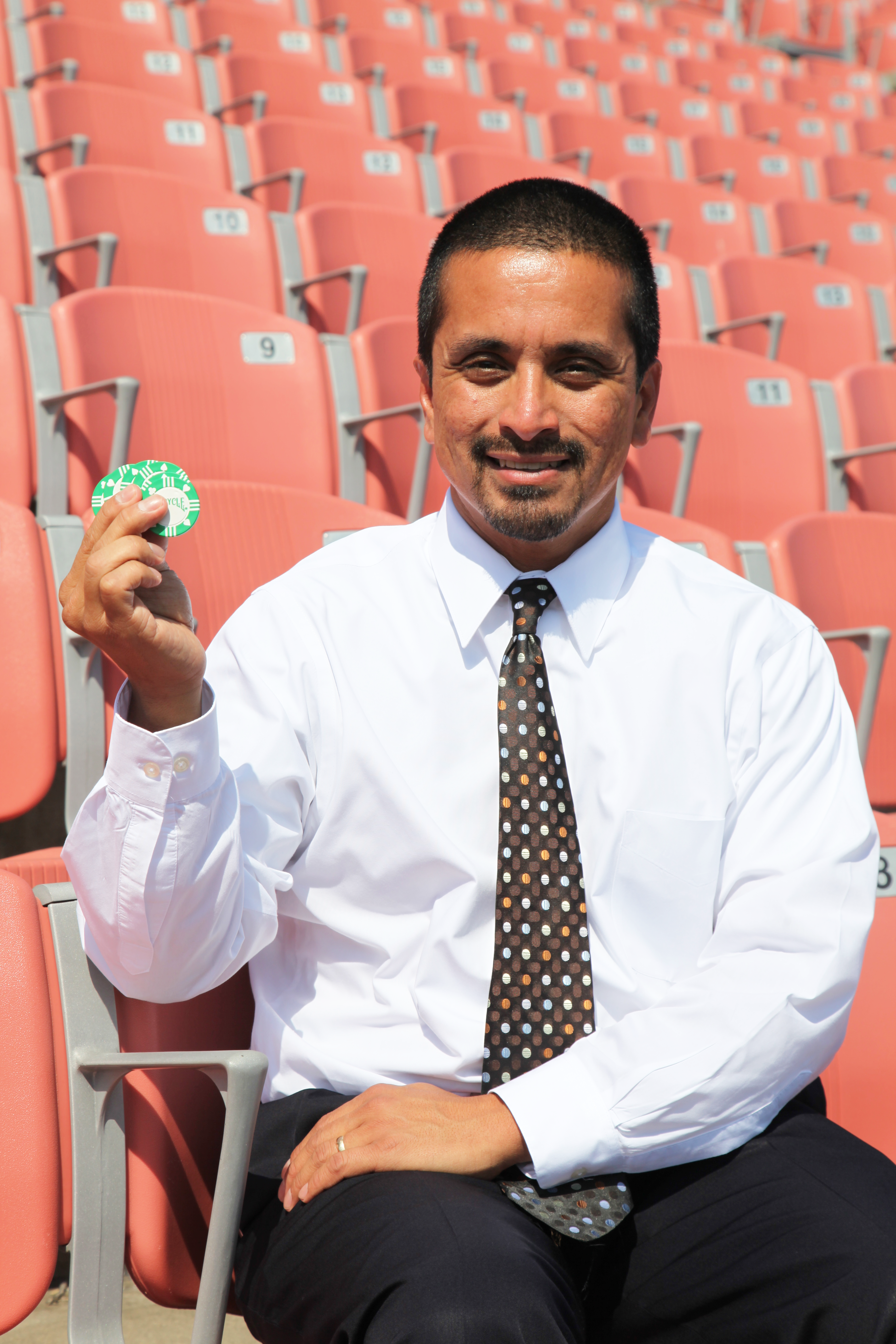 There has been some slight apprehension about the changes from some teachers who have been at Coppell for many years and believe in more traditional teaching methods.
Jasso understands that change can be difficult, but has made it very clear that every employee on campus is expected to be "all in" with the transformations.
"I told them, if you can't look me in the eye and say 'I'm all in' or 'I'm going to try these things that you want me to do' and be sincere about it, then I encouraged them to do some soul searching," Jasso said. "To do the type of work that I expect and the type of work that [CISD Superintendent Dr. Jeff Turner] expects, we've got to have people who are on board."
As returning staff members adjust to the evolving instruction techniques and other changes that come with new administrative policies, dozens of other teachers are still trying to figure out how to get to D Hall from B Hall.
Coppell High School hired 48 new staff members for the new school year. Thirty-six of these are new teachers, while the remaining 12 are filling roles such as secretaries and aides. English IV teacher Samantha Neal is one such new hire.
"It's crazy to think almost 50 new people came in," Neal said. "I know we have more kids here than ever before. Students from all over the world are moving to Coppell. That's very telling of what kind of district this is."
New teachers and CHS veterans alike will be "all in," working together to make Jasso's vision for Coppell reality. Though the staff and their leader are doing as much as they can to make CHS a bastion for innovation and real world preparation, it is up to the students to take advantage of the improvements Jasso is making.
"I hope that you help your teachers as they go about trying new things," Jasso said. "I hope that you guys are "all in" as well and that you do your part as far as trying the new things that your teachers are trying to do because, in all actuality, we're trying to make school better for you."