Frozen yogurt now served at lunch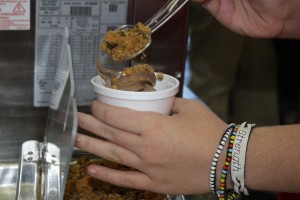 By Rebecca Fowler
Staff Writer
Much to the delight of Coppell High School students, soft serve frozen yogurt is now being served at all three lunches.
The cost is $2.50 for a good-sized cup, and then students can get creative with the yogurt and toppings (everything is self-served).
The options for frozen yogurt are chocolate, vanilla or chocolate vanilla swirl, and the topping options are strawberries, nuts, sprinkles or brownie bites.
Though the cost is a bit pricy, the yogurt is delicious and is given in a generous amount.
The new frozen yogurt can be bought at the Deli Depot in the small commons.