Senior girls defend their ground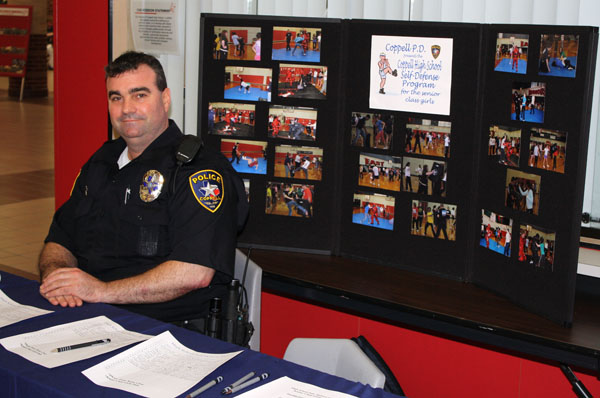 By Kara Adkins
Online Copy Editor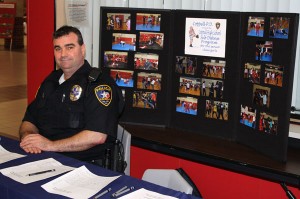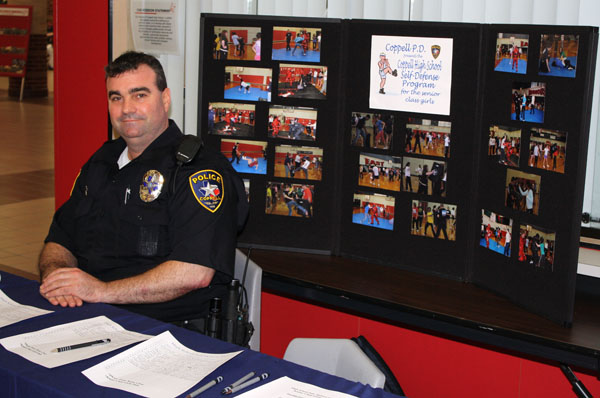 Blocks, pressure points and strikes were all new phrases to many senior girls on Jan. 18 at the first Senior Girls' Self Defense course of the year.
This course will be offered to all Coppell High School and New Tech senior girls every Wednesday for the next six weeks from 6-8 p.m. at Coppell Middle School East. This course focuses on ways to protect oneself when put in uncomfortable or dangerous situations.
"They will learn techniques and maneuvers to fend off someone," Coppell police officer R. J. Harr said. "At the very end they will be able to put them all together and demonstrate how they all work."
Although the officers make sure the course is fun and playful, the underlined importance is very apparent. When the officers begin to read off the facts that one in four college women is a victim of rape or attempted rape, and in the first six weeks of college, girls are most vulnerable to being attacked, the severity sinks in fast.
This course has been offered for 10 years at CHS and cannot only help girls in college but in many aspects of their lives. It gives girls the confidence of knowing they can protect themselves if danger ever emerges.
"It gives girls assertiveness in knowing that they can defend themselves and that they can do something if a crisis arrives," Harr said. "Also, they are able to help others in need."
This class is very interactive and gives girls the opportunity to learn hands-on styles and moves in order to develop muscle memory so they will not forget what they learned in a crisis situation.
"People think it might not happen to them, but there are always 'what ifs' and danger that surrounds us," senior Jennifer Hwang said.
The cops reiterate this point by saying the most common phrase they hear from victims of an attack is "I thought this always happened to someone else. I never knew it could happen to me."
But the statistics prove it could very well happen to anybody. As a victim, however, according to the National Victims' survey and Justice Department, if a woman fights back, she has a better chance of escaping rape compared to those who only plead and cry in defense.
By being physically and mentally prepared for these situations, Senior Girls' Self Defense gives the class of 2012 a chance to bond with one another while learning skills that could be useful in the future.
"Whenever I go off to college, instead of having to ask for an escort to take me back to my dorm room, I'd like to be able to kick butt on my own," senior Lauren Cruz said.
Although this class should be taken seriously, there is also a large aspect of fun to it. It is one of the last times all of the senior girls will have an opportunity to get together, and is a great way to create memories as the school year comes to a close.
"I was nervous, thinking it may not be very much fun, but it was actually very interesting and interactive," senior Alexis Pentecost said. "The police made learning fun by being supportive and helping us accomplish each move."
The Coppell Police Department encourages all senior girls to start coming to the class each week in order to be prepared and ready for whatever comes there way.