Class of 2012 embodies senior swagger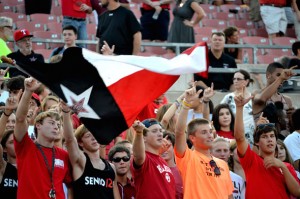 By Dyer Whitt
Staff Writer
As the school year strikes with full force for the students at Coppell High School, the class of 2012 prepares to take its throne with class.
Webster's defines seniority as "priority, precedence, or status obtained as the result of a person's length of service," and as a high school senior, this definition can have quite a few different interpretations.
"Seniority definitely deals some aspects of carelessness, but you feel more mature and know how to handle your work-load and can balance work and play," said senior Chris Reagan, sports director of KCBY.
While some seniors focus on the power and maturity that comes with senior year, others are taking advantage of the freedoms that come with it.
"[Being a senior is] an inordinate gift of confidence," senior Class President Anna Nudo said. "We feel fine walking down the hallways, singing to the songs over the loud speaker, not caring what any underclassmen think."
Senior perks affect the majority of the class. Options including dual credit and senior release give students the opportunity to get out of certain periods everyday making their schedules less hectic.
Contrary to that, students like Nudo work hard and take on the responsibilities of planning fundraisers and events for the senior class, to ensure a smooth year.
"Our main goal this year is to raise as much money as possible to make prom tickets as cheap as possible, " Nudo said. "We have had a couple fundraisers like the parking spot painting, homecoming parade and also a T-Shirt sale."
The perks of senior year have enabled students to show more school spirit through senior overalls and jorts, as well as having benefits in the classroom.
"I think the teachers are more lenient in class about not giving us a lot of work and the CHS traditions like senior overalls are a big hit among the girls," senior offensive lineman Jake Williams said.
Senior plunger boy Teddy Croft gets the student section pumped up every game, showing his pride for CHS with rowdy chants and plunger thrusts.
"Being a senior means I get to act as crazy and loud as I want at games and don't have the feeling of being humiliated in front of my peers," Croft said.
The culmination of high school has also given the students a sense of appreciation for the hard work and sacrifices made by the faculty, parents and volunteers who make CHS such a success.
"CHS has done so much for us and it's our chance to show how much we appreciate our school," Croft said.
CHS provides unprecedented opportunities that no other school can, and now even more with the addition of the academy, that focus on different areas of talent and give students an idea of what career that want to pursue in the future.
Reagan, a three-year veteran to the KCBY staff, describes his experiences at CHS as "life changing."
"We have a lot of opportunities at CHS and with the KCBY program I really fell in love with a career I could see myself in down the road," Reagan said.
Entering CHS as a freshman, you are subjected to a completely different setting and lifestyle. The intimidations of keeping up with homework and balancing a social life can run its toll on a lot of students. You may even envision high school as a four-year prison sentence, but this year's seniors are more assuring.
"It's all worth it in the end," Williams said. "Just make sure to try your hardest freshman and junior year and stay focused on academics."