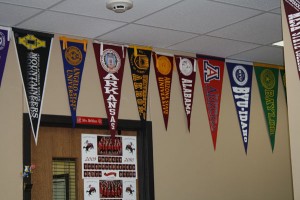 By Seth Slover
Staff Writer
The college application and preparatory process is a stressful yet extremely important time.  For juniors, this time is on the horizon; for seniors, the time is now.
In essence, all students have been preparing for college since beginning public school.  However, it seems as though many students are unsure of what this process consists of.
Counselor John Crook sums it all up in a few simple steps.
"By the spring of junior year, students should begin the college application and preparation process," Crook said.  "The SAT and ACT begin taking place during spring of junior year as well,"
In other words, students need to begin taking action towards pursuing college.  For underclassmen, it is important to at least be aware of this process in advance.
SAT and ACT are of extreme significance to colleges and universities.  The tests provide a way for colleges to accurately compare on a scale that is nationally used and recognized.
Next, a fairly long list of potential schools should be composed.   One convenient way for students to learn about schools is to attend meetings when colleges visit the CHS campus.  By attending these meetings or getting information from a school's booth, lots of great information could be gained to create a list of possible schools.
"Your list of potential colleges should be fairly extensive at this point," Cook said.  "You want to keep to your options open at this point.  Then, over the summer, through researching and visiting schools, your list will be steadily narrowed down."
"Originally, the list of schools I had a little bit of interest in was overwhelming.  However, over time my list was narrowed down," senior Jake Williams said.  "One way I eliminated schools was visiting colleges."
Many current Coppell seniors emphasize the importance of college visits.  Each CHS student is allowed two excused college visit days in a school year, so it is highly recommended that students take advantage of that opportunity.
"It is extremely important to take visits to the colleges you aren't interested in, especially junior year," senior Mattie Daily said.  "My opinions were changed on several schools based off a visit to their campus and getting a feel for what things were like at certain schools.  I had looked at schools such as Texas and Baylor, but after visiting Missouri, I concluded that was where I needed to be."
This step of is significant for all students in all grades.  A broad list of schools can be continued all through high school up until the fall of senior year.  It is at this point where action should begin to take place.
"Fall of senior year is essentially the time for students to know where they are applying, more or less," Crook said.
This time of year is crucial for both early admissions and scholarship applications.  Seniors and counselors alike recommend that these processes in the summer, because when schools starts life always tends to get much more hectic.
Across the board, the number one word of advice to students is not to procrastinate.
"I really regret not starting my applications earlier," senior Liz Meyer said.  "I also waited way too late to take my SAT.  I would recommend everyone to start thinking about college far in advance."