Bynum, Lakers show classless exit against Mavs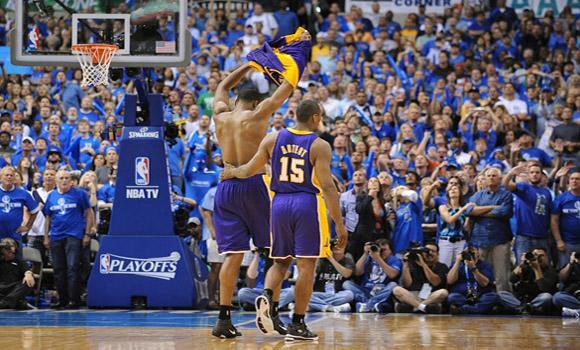 By Wren Culp
Staff Writer/Webmaster
*UPDATE* (5/11/10)
Andrew Bynum has been suspended for five games next year according the NBA for his flagrant foul on JJ Barea. Bynum was also fined $25,000 for removing his jersey as he exited the court. In those five games, Bynum will lose $702,272 overall.
I have no respect for the Los Angeles Lakers. They are cheap, dirty sore losers, and they are an embarrassment to the National Basketball Association and the morals that it stands for.
As a non-Laker NBA fan, I've had my share of anger felt moments toward the team. Let's face it; the Lakers are a great team outside of this series, and they probably will be for some time.
Countless times have the Lakers beaten the Mavericks. Whether it be here in Big D or in LA, and after every loss, I sit there puzzled for a second, then say the excuse every other NBA fan says after their team loses: "It's the Lakers."
But after the Mavericks swept the Lakers in the second round of the 2011 playoffs, the Lakers have some things that need to be addressed. Something that needs to be addressed more than all others however is attitude and mutual respect.
Certain members of the Lakers organization have a horrible attitude and it showed in this series. I don't care how frustrated, bewildered or upset you are, you always contain your emotions. That's basic sportsmanship 101.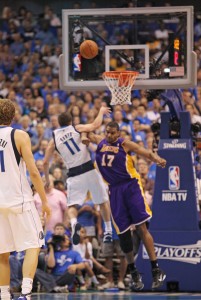 The flagrant fouls committed by Lamar Odom and Andrew Bynum which ultimately resulted in their ejections, were completely unnecessary and just flat-out embarrassing. As a player, you get played a huge salary to play the game, not to let your emotions get the best of you.
More specifically concerning Andrew Bynum's foul, he doesn't deserve to wear that purple and yellow jersey. He doesn't deserve to wear any NBA jersey for that matter. Bynum went out of his way to hit Barea, who is more than a foot shorter and 110 pounds lighter, with his elbow and watched him hit the ground hard, then slowly backed away before removing his jersey and walking off the court. Why did Bynum remove his jersey? Because he's a "tough guy."
In a post-game interview with ESPN, Bynum had this to say: "We were getting embarrassed, so I just fouled somebody." Never in my life have I heard a player not feel bad about their foul or being ejected. Andrew Bynum is a disgrace to the Lakers and the NBA.
Now the NBA needs to go out of their way and punish both Bynum and Odom for their actions.
"You never want to see that happen, a player getting hurt," Lakers forward Kobe Bryant said in a post-game interview with ESPN. I have a new -found respect for Kobe Bryant for not letting his emotions cloud his judgments on the court. He was honest in his interviews about the series and you could see his desire to win. That's all you could ask for out of a player.
Someone I do have huge respect for however is Phil Jackson. One of the greatest coaches in the history of sports was embarrassed by not only by his team's performance, but also by their actions. Jackson has had an incredible career with 11 NBA championships as a coach. He deserved to have a classier exit than this.
For a professional sports player, it's important to understand the qualities of sportsmanship and class. The Lakers played with no class in game 4. You win like a champion and you lose like a champion.