Jason Witten to host football camp at CHS
Mary Whitfill
Features Editor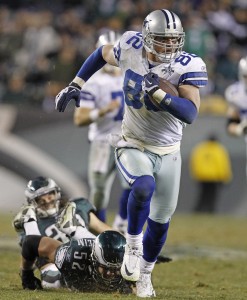 Jason Witten, Dallas Cowboy's tight end, will be hosting a football camp at Coppell High School April 30-May 1. In a total of seven hours of professional football instruction, Witten will partner with area coaches as well as the head coach of Mount St. Joseph's College in Cincinnati, Rob Huber.
Boys and girls ages 7 to 14 are welcome, with a cost of $199. The camp will run from 9:00 AM to 12:30 PM at CHS. Each camper will receive a camp shirt, an autographed team photo and opportunities to will more contests and prizes.
Campers will participate in daily games, stations and contests and each camper will be placed on a team according to age. Individual groups will be small as to insure that each child is given individualized attention.
The Citizen's Advocate Newspaper is giving away one free certificate to a local child. Deadline to submit your entry is April 20. All people entering must be subscribers to the Advocate. To enter, mail your name, address and phone number to:
Citizen's Advocate
P.O. Box 557
Coppell, TX 75019
In the case of inclement weather, the activities will continue at the indoor football field at the CHS field house.