Newest Jane Eyre adaptation redefines Brontë classic
Rebecca Neumann
Entertainment Editor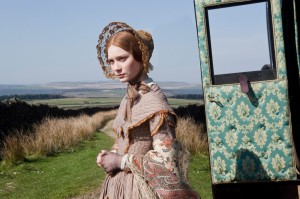 After an excruciatingly long week of limited releases in Los Angeles and New York City, Charlotte Bronte fans across the rest of America are finally able to see the newest film adaptation of Charlotte Bronte's Jane Eyre.
The movie is worth the wait. It stays loyal to the themes of the novel but makes some key changes to broaden the viewing audience to a wider group of people. For instance, whereas the two main characters in the story are meant to be plain-looking in the novel, the actors cast in the film both have better-than-average looks. Luckily, this is the farthest the movie strays from the original themes of Charlotte Bronte's work.
The film follows Jane Eyre (Mia Wasikowska), a young, independent woman, as she struggles to survive a cruel girls' school, works as a tutor and falls in love. There are many unexpected twists and mysteries that keep the audience on edge throughout the film, including the intentions of love-interest Edward Rochester (Michael Fassbender) and his shady past.
That being said, it is not your average love story. Though it is set in the same general time as Austen's novels, Bronte's themes are somewhat darker. Those looking for the happily-ever-after ending may not be entirely disappointed, but the tone of the film is darker than Austen-based films.
Wasikowska is phenomenal as the strange Jane, capturing both her strength and vulnerability, while Fassbender's Mr. Rochester is somehow curmudgeonly and at the same time lovable. The English countryside is featured so prominently
throughout the film it might as well be the third main character.
The rest of the cast is amazing, as well. Judi Dench is always great in her films, but she moves away from her usual roles to play the kindly Miss Fairfax. Jamie Bell, most recently seen with Channing Tatum in The Eagle, plays his usual serious role as the clergyman St. John Rivers. The entire collective cast had great chemistry and fit their roles well.
For the many students who read Jane Eyre in English class, this film may be a surprise. It takes a long, centuries-old book and makes it interesting and, at times, riveting. Those who may be assigned the novel as required reading might find this adaptation to be a great alternative or supplement.
Although almost the entire theater was occupied by people over 40 years old on opening day, I have no doubt the movie will be seen by many different ages of people when it comes to play in theaters everywhere. It has everything a historical film needs to succeed as a movie: a superb cast, great scenery, action and a release date that does not coincide with any big blockbusters. A-