The Harry Potter invasion
Madison Ford
Staff Writer
Harry Potter has invaded Coppell High School. No longer is the adored yet controversial book series swept under the rug in Coppell public schools. CHS is embracing the phenomenon, and all that goes along with it.
In order to celebrate the premier of Harry Potter and the Deathly Hallows on Nov. 19, CHS partook in a Harry Potter theme day on Nov. 18. Many students dressed up as characters from the series and the library staff, the creators of CHS Harry potter day, hosted a luncheon where those in costume could eat, discuss the books, and enter in a raffle for two free movie tickets to the midnight premiere.
""It's the end of a phenomenon and we felt like the phenomenon needed to be celebrated," librarian Lex Anne Seifert said. "What we found out in our lunches today, that we kind of knew but we didn't really grasp the importance of this for you guys, is that you guys grew up with Harry. As Harry grew you guys grew right with him so it's just a perfect thing to celebrate."
Written by J.K. Rowling, the Harry Potter series first hit American bookshelves in 1998. In the 12 years that have followed, Harry Potter mania has struck a generation of readers that are now approaching the cusp of adulthood. As the franchise comes to a close with its final book being released in movie format, CHS students reflect on the role Harry Potter, the young British wizard that captured the hearts of many, has played in their life.
"I like Harry Potter because I think it is a fun way for kids to get into reading," freshman Mikki Hoffman said. "It was one of the first books that I actually read that I enjoyed. And it's really long and I like that sort of thing in a serious books. I also like the inventiveness that J.K. Rowling had with the entire thing. I just grew up with it, and I remember the very first time I saw the first movie and it's close to my heart now."
The fact that the Harry Potter character was an icon the Generation Y grew up with is felt by many students.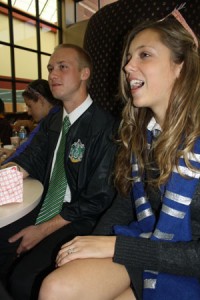 "I started reading it when I was little and just really grew up with it. It really became a part of my life," senior Caroline Lowry said.
The books wide array of characters has allowed students to relate to a specific personality. In fact, some die-hard fans wish that they themselves were one of the wizards.
"I am Hermione," Lowry said when explaining her ensemble. "She is a nerd and she likes books and she likes to work hard in school and that's basically me. I am the real Hermione, no big deal."
However, the Harry Potter series has brought with it much controversy in public schools.
"Well of course as a librarian I disagree with any censorship," Seifert said. "I know that our kids and our students are very savvy and they're smart and they know the difference between what's real and what's not real."
Students and teachers at CHS have been able to confront the subject with the appropriate attitude.
"Every student I talk to realizes that it was written to explore imagination and for kids to have fun," Seifert said. "The real themes and the real messages of the book are those of friendship and support and love. It is all good."
The positives of Harry Potter are held in high esteem to those at CHS.
"I personally think that there is no problem with Harry Potter and I think it's good that we can be excited about something that is obviously monumental for many people of the nation so why not?" Hoffman said. "I think in general religions are a big reason Harry Potter is kept out of schools and libraries. I don't agree because once again, it's an inventive imagination, not realistically saying wizardry exists. It is just fiction novels. I don't think it encourages kids in any way or form. I think it's a good thing if we promote reading in this way."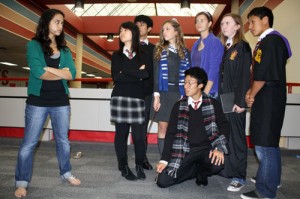 Coppell High School's Harry Potter Day went beyond celebrating Harry Potter. It was an outlet in which faculty could relate to students and celebrate their interests.
"We just need to connect with what you guys connect with," Seifert said. "We just need to stay connected."
In the end, the festive spirit of the day was reward enough to the students of CHS.
"When I walked into school today and I saw everyone dressed up in Harry Potter costumes it literally made my day," senior Kayla Briel said.