Taking a seat on a vast table in a cavernous meeting room, Coppell High School sophomore Gabriella Pardo prepares for her culture committee meeting as part of the Texas 4-H program, whose goal is to account for the diversity of different cultures in Texas. 
Pardo has always had a deep interest in other countries and their cultures. But amongst those other cultures, Japanese has always been one of her favorites. 
"She's always been interested in Japanese culture, she finds their architecture and design very calming," said Sophia Pardo, Gabriella's sister.
Over the summer of 2023, Gabriella and her family hosted Japanese foreign exchange student, Yuzuka Sugiura, from July 23-Aug. 16 through the Texas 4-H program, a Texas A&M Agrilife Extension.
"The goal of the program is to give families global awareness and understanding of different cultures," Texas 4-H coordinator Dr. Darlene Locke said. 
The Texas 4-H program helps facilitate foreign exchange students in the United States.
To make Sugiura feel comfortable in her new environment, Gabriella started communicating with her a month prior to her arrival over text, staying up late nights for the time zone difference in order to introduce herself and get to know Sugiura. By the time she arrived, Gabriella was both anxious and excited to meet the exchange student in person.
Sugiura was from the countryside outside Tokyo, a far cry from the suburban setting of Coppell. She was not as proficient in English or as aware of American slang as Gabriella, making communication initially difficult.
"When you take in someone who doesn't really speak your language, and you have to be creative in communicating, you connect on a different level," Gabriella  said.
During her stay, Gabriella  and her family introduced her to various aspects of American culture. They took Sugiura to the Fort Worth Stockyards, Six Flags Over Texas and Galveston beach. Sugiura was often curious, but amused at the differences she observed between the United States and her conservative, rural community in Japan.
But the transfer of culture was not one sided. Gabriella was also able to experience many aspects of Japanese culture including origami, cooking traditional Japanese foods, such as okonomiyaki and imodango, and trying out Japanese snacks with Sugiura. They also spent time swimming, playing sports and watching movies. Activities made up their time together, forming a close connection between them. 
"It's like you have gained another sibling, or made a new best friend," Gabriella said.
When Sugiura left, Gabriella was devastated. Their time spent together had fostered a personal connection, which made it hard for them to separate. Gabriella still keeps in touch with Sugiura.
"There are not enough words to explain how heartbroken I was when she left," Gabriella  said.
The experience also gave her real-life experience and lessons that she can apply to her culture committee project. This project is also done under Texas 4-H, which encourages leadership by helping students set up groups that can help them and others better understand different cultures. 
"Hosting Yuzuka opened my eyes more to what the culture committee needed," Gabriella said.
Specifically, it has led her to understand that language is one of the most important components to understand different cultures and its significance to people's identities. 
The experience has made her more willing and confident to explore new areas and people. Gabriella's interest in culture has risen even more and ignited her interest to travel. It has motivated her to learn new languages and customs, as well as teach others about different cultures.
"I have this willpower to learn anything I need to be a person that's more convenient and to teach," Gabriella said. "I want to show people that I have this spark that's willing to go out there and do all of those things."
Hosting a foreign exchange student has given Gabriella  a unique opportunity and also more ambition to cross new boundaries. Empowered by her will to learn and explore, she wants to be a foreign exchange student herself in Japan next summer. Through this experience, she has learned not only about different cultures, but also how to navigate through barriers to make bonds with others.
"I've learned that if you put yourself out there to connect with someone, it changes who you are," Gabriella said.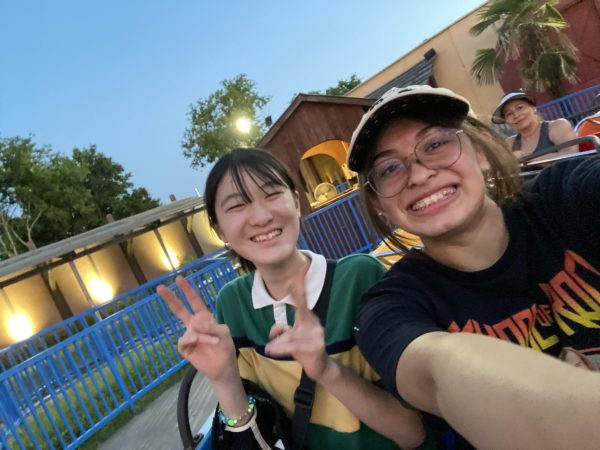 Follow Yug Talukdar (@YugTalukdar) and @CHSCampusNews on X.