If you sit down with Coppell High School sophomore Harshvardhan Vinoth Kumar, the first thing that you will notice is his unique accent. With a rich concoction of Indian, English and various other European intonations, it is the first clue to his international upbringing that started from age 7 when his father asked him one simple question: 

Kumar's answer to the question would shift the course of his life as he spent his childhood living throughout Europe, traveling through Africa, Asia, even going on an expedition to Antarctica from ages 7 to 13. Kumar's experience has allowed him to develop a rich, multi sided view of the world.Though pivotal to his identity, Kumar's frequent trips have left him a literal and metaphorical traveler, both in physically traveling but also in his attempts to connect with others. For Kumar, who believes geography serves as the bedrock to social connection, his abundance puts him in a more isolated position. 

"Many people say they admire me," Kumar said."They wish they could travel like me, but personally speaking, I haven't enjoyed it as much as people make it out to be. Friends hang out on weekends or go out, but I've never been able to do that because I move around too much. Just when I start getting close to people, I move around again."

Born in Charlotte, North Carolina, Kumar returned in eighth grade, first living in Virginia where he was alarmed at the biases behind  how certain subjects were taught in history.  He witnessed the use of language to imply communism as a system of governance rather than an economic system and the oversimplification of Hinduism as a religion. Noting the bias inserted into pedagogy, Kumar felt impassioned about the discrepancies  and sent letters to the school board, requesting a change in approach to these subjects. It certainly was not the first time Kumar noticed bias in his history curriculum.

"History will always favor the winners, there's no question about that," Kumar said. "It'll always favor the more technologically advanced, the fighters. In Europe, they colonized people, won many wars, and put it down in history books as the most important parts of history. This is not just in Europe. It happens in India. It happens in any country you take."

Moving from Virginia to Texas his sophomore year, he found a place for his love and knowledge of history within his AP European History class, getting wildly into character during debates, sometimes even a little too much he says, recounting how he told someone to go burn at the stake while role playing as King James I.

"History has always been one of my favorite subjects, it just comes up naturally," Kumar said."I have seen a great deal and have general knowledge so oftentimes it's hard for me to understand that some people might not know certain topics. I tend to get very passionate when I talk about history."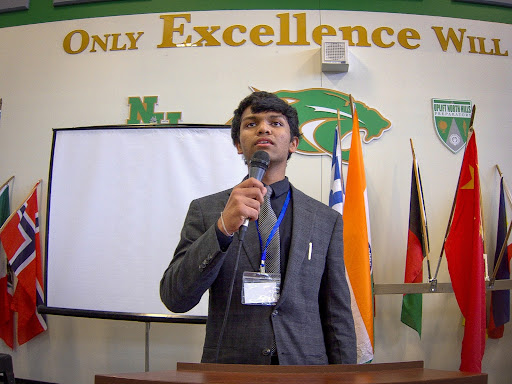 CHS AP European History teacher Dan Gillette recognizes Kumar's international perspective and ability to see a larger picture. Gillette feels assured in Kumar's ability, even admitting that he shows a deeper knowledge of the history of and after King Henry VIII rule than himself. This last fact may be a little less shocking by the fact that pre-Elizabethan and Elizabethan are Kumar's favorite eras of history to study.
"He came a few weeks late," Gillette said."It's always a concern for a teacher when a student comes a few weeks late to a class in the beginning of the school year, especially in an AP class. I was keeping an eye on him just to see how he was catching up. The first time I checked on him I knew he was going to be fine."
Kumar  showed so much promise in class that Gillette recommended him for the state University Interscholastic League Social Studies competition within his first week of attending class. Kumar accepted the offer. The different curriculum has given him the opportunity to see history from multiple sides, leaving him with a desire to find the truth between opposing perspectives and a willingness to challenge the biases he encounters. Kumar's intellectual vitality for a global perspective is apparent on his every venture whether it be in school, Model U.N. or on Academic Decathlon.
"One thing I notice is that he's always trying to learn more than what's in our material," senior Academic Decathlon captain Ishaan Kashyap said. "He'll ask us about questions that we don't really need to know but he wants to know about anyway. He commands a lot of attention in a room because he has that confidence and that helps him stand out."
For Kumar, there is always more to learn about history: more perspectives, more problems, more progress. 
"History is important so that we learn from it and not commit the same mistakes again," Kumar said.
Follow @CHSCampusNews on Twitter.