Last year, the Coppell volleyball team graduated 10 out of its 14 players on varsity, leaving behind four juniors to steer the program into its new season. 
This year's team is much younger with over half of the roster underclassmen new to the varsity level: two freshmen, five sophomores, two juniors and four seniors.   
"In preseason [the younger players] were still kind of learning about varsity and all the things that we expect from them," senior libero Kathryn McDonald said. "We set good goals in the offseason and that helped a lot with the adjustment, but it was a little rocky at first because there's so many people that haven't been on varsity."
However, Coppell coach Robyn Ross intended for the preseason to be intense to prepare the players, especially the underclassmen, for the rigorous season. 
"I've tried to tell the girls that the win-loss record in a preseason doesn't mean anything," Ross said. "We don't have the luxury of having weak teams in our district – every team is strong. Most of the teams that we played were ranked in the top 20-25 in the state. It was intentional that it would be hard mentally and physically because it will better prepare them for what they will see in district."
As the team transitioned out of its preseason and into the bustling school year, a struggle that became more prevalent to Ross is the lack of bonding time together on the court. 
"A lot of times when you're on a varsity team, those girls are playing club together, playing school ball together for years, [but] this mix of girls have very little playing time together," Ross said. "So they're learning each other that way and trying to figure out what that person's tendencies are. And sometimes there's not a ton in common between 14 and 18-year-olds, so our seniors are doing a great job of really trying to integrate these young ones into the family." 
According to Ross, another struggle the team faces this year is lack of height. All of the players on this year's team are under six feet tall, much shorter than their counterparts across the net. Because of the smaller size of the team this year, the Coppell's opponents have been able to hit through their blocks easier, putting more pressure on the Cowgirl's defensive row.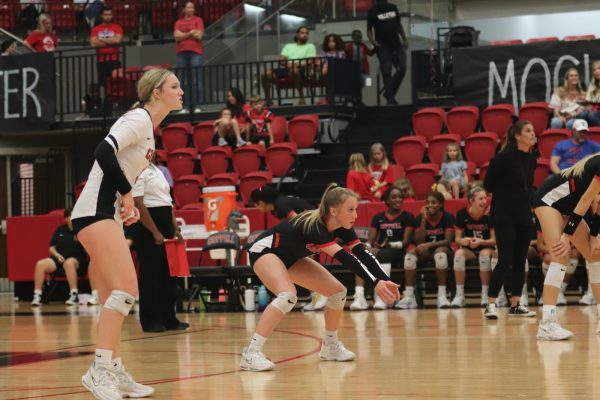 "We are small compared to everyone that we will play, so the ball control piece is going to be huge for us," Ross said. "Being able to get teams out of system with our good serving and to keep ourselves in system with our great ball control, passing and defense will make or break us this year."
To adjust to the shift in height, the team has incorporated vertical training and game-like scenarios into its practices to increase the athletes' explosiveness and endurance. One of the drills that Ross frequently runs includes her hitting to the defensive specialists– McDonald, sophomore Molly Williams and junior Randee McCloud–without blockers in between, to prepare the players for missed blocks in the match. 
Additionally, the Cowgirls are doing more competitive drills in practices to help younger players acclimate to the intense setting of being on a varsity team. 
"At the beginning of the season, I feel like everybody was kind of laid back and didn't want to be the one to mess up," McDonald said. "During practices now, some of the people that I've never really heard speak that much started screaming and wanting to win and that definitely translates onto the court."
The Cowgirls are already a quarter of the way finished with their regular season, but each struggle presented becomes more of a strength after each practice and match. 
"We're doing well with what we have and we're going to keep improving throughout the season," Williams said. 
Follow Ava (@avakjohnson4) and @SidekickSports on X.