The Boston Crusaders, one of the best marching bands in the nation, expect tremendous results and commitment from the best talents in the United States.
Coppell High School senior Ansh Lala's time with the Boston Crusaders changed his life in the marching and mellophone aspect and his winning mentality.
"I really had to figure out a lot of things that I didn't have to before," senior Coppell Band vice president Ansh Lala said. "Being in Boston, I had to commit and not let the pressure get to me."
His talent got him in, but according to Lala, he learned so much more over the summer. During his time with the Boston Crusaders, he met talented high school musicians, learned new movements, became a better leader, and improved his skills as a mellophone player.
"There is a certain standard that you need to play and act at," Lala said. "Being in Boston was difficult, but it was a good reminder of all the hard work that I had put in."
The Boston Crusaders is one of the most prestigious marching bands in the world. With exceptional talent, they travel all over the United States to compete against different teams in the summer. 
"They are the best who expect the same out of everyone," Coppell Head Band Director Kim Shuttlesworth said. "There is no exception for anyone out there, they want to win."
The Crusaders made it all the way to the DCI World Championship finals in Indianapolis. They placed fourth in the finals indicating their talent and competitiveness.
As the head mellophone player of CHS, Lala not only has the responsibility to play solo during movements but also the responsibility to lead and help others out.
"He was always a quiet leader," Shuttlesworth said. "He is a kind guy, everyone likes and respects him, he doesn't want to do the wrong thing, and he really strives to make as little mistakes as possible."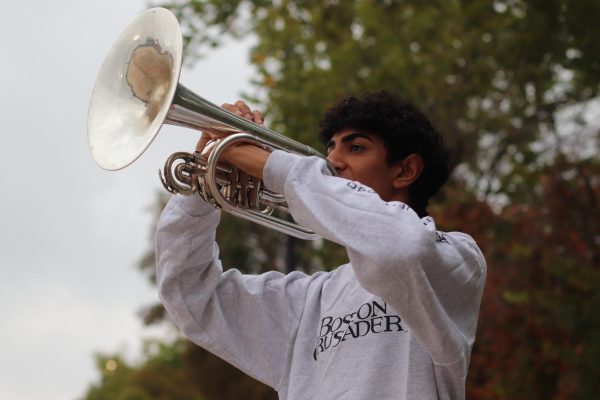 Even band players who do not know him so well feel Lala's impact when playing and learning movements.
"When you have a title such as his, you tend to follow his movements," junior flutist Karan Katiyar. "Even though I don't know him that well, I always see him locked in, ready to learn and ready to execute movements, and that makes me want to as well." 
Expectations were high going into the application process. Lala had to submit a video displaying his talents at the beginning of November. Then, he had to wait until December for the callback camps. The objective of these camps is to display the player's talents in person. Once the roster was made, the Crusaders held a few days of camp every month to prepare for the summer.
These consisted of winter and spring training camps, which helped unite all players and prepare movements for competition. However, this is an extreme load that many people can not handle.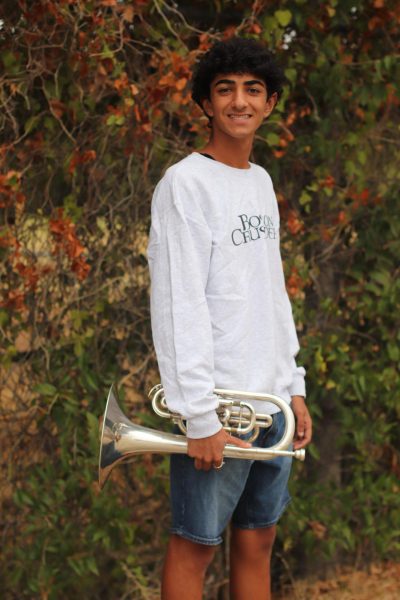 "I was really worried for him," Shuttlesworth said, "He was the youngest guy on the Crusaders, and I wanted to make sure that he was ready for the load."
Lala also felt pressured due to living alone and being the youngest on the squad.
"I had to learn work-life balance, which was key to performing in school with the tough courses and the band," Lala said. 
Although there was much pressure, Lala grew a lot during the summer, preparing him for future competitions, teaching him self-accountability, and pushing himself in uncomfortable situations to lead underclassmen.
"This experience was definitely one of the best I've had," Lala said. "I learned so much, and when I came back I was able to take up the role of being a leader immediately since camp had already started."