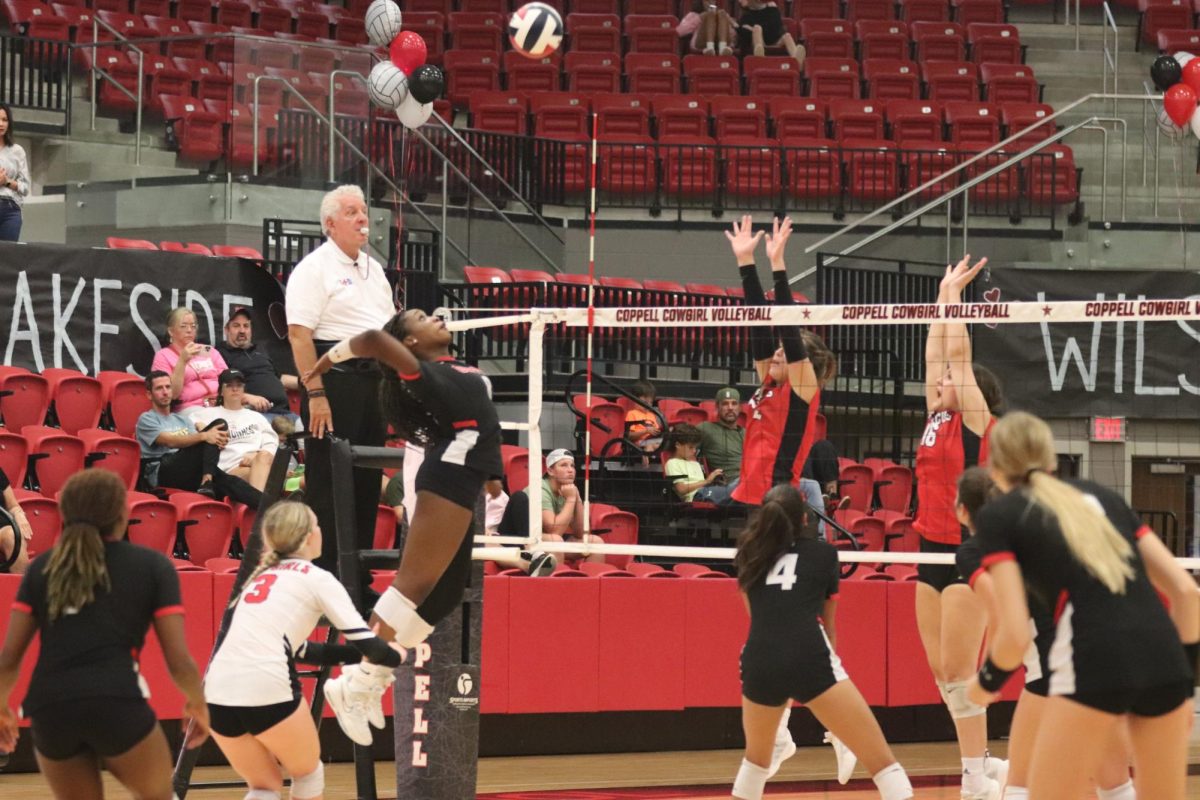 The air is tense as the Coppell volleyball team disperses from a timeout, just one point away from claiming match point. The student section is silent as both teams battle for the ball, digging up every hit. The crowd erupts with the cheers of children as Coppell freshman outside hitter Brooke Felix hits a cross court kill, securing the win for the Cowgirls on elementary school night.  
Coppell ended the match with a 22-25, 25-17, 25-18, 18-25, 15-13 victory against Flower Mound Marcus on Friday at CHS Arena. 
In the first set, both teams remained within two points of the other. A kill by Coppell outside hitter Daki Kahungu, the first of many throughout the night, helped the Cowgirls to gain some momentum, giving them a three-point lead. However, the Lady Marauders soon caught up and took the first set, 25-22. 
The Cowgirls have been focusing more on running a faster offense, which was evident during the game. Kahungu and Coppell senior setter/outside hitter Mira Klem each put away multiple kills in the second and third sets. Boosted by consecutive aces by Coppell senior libero Kate MacDonald and Coppell sophomore defensive specialist Randee McCloud, the Cowgirls were able to take advantage of the Marauders' out of system plays and won the second and third sets. 
Going into the match, Coppell knew that they would have to watch out for Marcus sophomore outside hitter Akunna Cos-Okpalla. 
"We worked a lot on moving our defense to play cross balls because [Okpalla] hits really hard and she hits across the court," Kahungu said. "We definitely adjusted a lot throughout the game by seeing what they were doing so we could do it better."
During the fourth set, the Cowgirls struggled to dig up Okpalla's hits, allowing Marcus to pull ahead with a 9 point lead. Although Klem executed multiple kills, Coppell was not able to keep up their rhythm, allowing Marcus to take the fourth set. 
By executing clean hits and serves, Coppell was able to force Marcus to play out of system, interfering with its  rhythm in the fifth set. With the Marauders coming up close at 14-13, Coppell called a timeout, which proved to be effective. The Cowgirls came back and were able to put away the ball, not allowing Marcus to get a single touch on the clean kill. 
After winning against Lewsiville earlier this week, the Cowgirls were able to keep their momentum going, boosting the team's morale. 
"A win is nice," Coppell coach Robyn Ross said. "They played hard the whole night, and they kept up a faster offense."
Coppell plays at Plano East on Tuesday.
Follow Sukirtha @suki_muthiah and @CHSCampus News on X.