With her garden glove clad hands in the soil and a smile on her face, Coppell resident and Valley Ranch Elementary School garden volunteer Doris Patrick shares a plethora of gardening knowledge to curious, wide-eyed students. 
On Aug 16, Patrick won the Heroes For Children Award, which is given to 15 volunteers across Texas every year by the State Board of Education.
"I was surprised, really," Patrick said. "When I had gotten the notice that I had won, it had felt like a great honor."
She was nominated for the award by VRE teacher and garden coordinator Sandra Braden.
"Patrick is such a wonderful example for volunteerism, and has been such a great help to our school," Braden said.
Patrick often volunteers in the VRE garden and teaches students to garden. She waters plants at the garden every day, gives gardening tips to students and implements ideas on how to improve the garden. 
All of the food grown in the garden is given to the school cafeteria for the lunches. Vegetables grown in the garden include lettuce, potatoes, broccoli, cauliflower, cabbage, garlic and onions.
Patrick originally joined the VRE garden after her church, Valley Ranch Baptist Church, had sold the land that she regularly gardened on. Braden welcomed Patrick to the school two years ago, and Patrick has been volunteering since.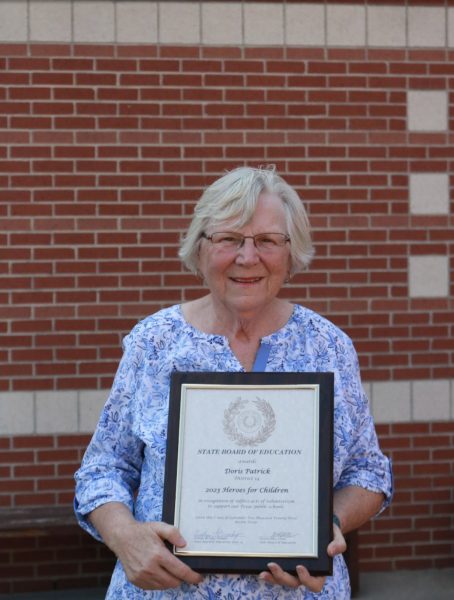 Prior to volunteering at the VRE garden, Patrick was an elementary school teacher, and taught second grade, fifth grade and kindergarten in California for five years before leaving education to work in informational technology. Her experience teaching helped  her connect with the VRE students further.
"Teaching was really fun, and I enjoyed getting to interact with such young learners," Patrick said. "Volunteering at the gardening is a really good bonding experience, and I can tell that the kids bond with each other too."
Patricks passion for gardening started at a young age and has manifested itself into an integral part of her life. She was inspired to start growing plants from her grandparents, and continued to for the rest of her life. 
"Fresh food is great and it's wonderful to have grown your own meal," Patrick said. "If you can pick it out of your yard, then it's the best thing you can eat."
Patrick is always looking for new ways to innovate the VRE garden. She advocates for ways to spruce the garden up by introducing new plants and adding new plant beds.
"Patrick came in and redid the school garden so it was more useful for all of the learners." VRE Principal Cynthia Arterbery said. "She was able to work with our students and parents to rebuild the beds in the garden to extend the use of the garden even further."
Patrick's gardening skills span outside of VRE as well. Patrick gardens in her home and has been tending for two plots of vegetables at the Coppell Community garden where she harvests food for the Metrocrest food pantry. 
"I love to garden all the time, and it's really calming for me." Patrick said. "It's wonderful that I have the opportunity to supply others with fresh food as well."
Follow Anvita  (@anvita_bondada) and @CHSCampusNews on X.