Wiethoff reaching new heights with elite Sacramento drum corps
Feeling the beat of the drum, Coppell senior Cooper Wiethoff's body sways to the rhythm. Eyes closed, his size 14 feet shift on the waxy gym floor. Performing at the senior pep rally with Coppell's percussion line, his blonde cropped hair stands above the rest atop the horseshoe star of CHS Arena.  
The percussionist began his journey in the humble practice rooms of Coppell Middle School East. He browses potential instruments, inspecting the lustrous shine of a clarinet or the sterling tuba. After finding these instruments unamusing, he eyes the smooth, stretched skin of the drums. 
"Percussion was the one thing that you had to try out for," Wiethoff said. "You could say, 'I want to play trumpet' and you would be able to. It was more exclusive, and that was interesting." 
Walking the halls of CMS East, the drummer carried quads, hyping students up before pep rallies and football games. But after being beat out by other percussionists his freshman and sophomore year, Wiethoff saw himself playing JV bass five, the largest drum on the line, for two years.
CHS percussion director Randall Nguyen immediately noticed the physicality of the 6'4 freshman. 
"He was tall, and we wanted someone tall and strong," Nguyen said. "We wanted him to play bass five for his freshman year when he was in the JV drumline." 
Sitting in the audience of a varsity percussion show, Wiethoff felt the pulse of the music, an innate feeling of inspiration reverberating throughout, akin to that when eyeing the instrument for the first time. Seeing the potential for a future, he chose to dedicate his time to bass five, an instrument given to him by chance. 
"It's an incredible instrument," Wiethoff said. "It's amazing to me." 
Sweat beading on his forehead, Wiethoff pushes his golden hair backwards as the unrelentless Texan summer sun beats down on his exposed neck. The painted parking spots of the high school stand empty, the high school transformed into a desolate landscape for three months. 
After attempting to wipe the sticky perspiration off and fanning himself, he picks up the 40-inch steel bass five drum. Hoisting it six feet in the air, he begins rehearsing, the low thrum breaking through loud chirping of cicadas.  
"Cooper has always had a sense of dedication and discipline." Nguyen said. "I met him when he was in eighth grade. He just had this feeling of wanting to be really good, even though he didn't know what he wanted to be good at yet. Not until he actually got to the high school, then that's when he really started to become a leader and then be a good musician overall. He's become one of my favorite students to teach over the past five years." When exiting the parking lot for fourth period release or the 4:15 p.m. dismissal bell, students can hear faint thumping, the persevering leader standing alone in the parking lot, perfecting his craft. In an extensive effort to further his musical career, he drove to Prosper High School to audition for the Blue Coats, then spent weekends flying out to Canton, Ohio to continue his audition, hoping for a spot on the elusive drum corps. 
"I have such a specialized skill set it feels like a waste not to take it somewhere else," Wiethoff said. "I got called back twice until Jan. 13, where the last camp was and they said, 'I don't have a spot for you.' I spent a couple months playing pretty much every day after school on a drum, to prepare for this and it wasn't enough. They had more experienced people. That was devastating." 
The percussionist continued his pursuits and reached out to private lesson teacher Doug Bush during winter break to help with his marching.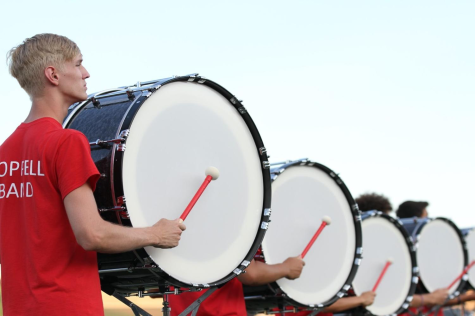 "We must have spent an hour and a half in the parking lot," Bush said. "He would have gone all day if I was willing. I'm sure he was still going when I left. It's rare to find students that willingly give up parts of their break to focus on weaknesses they're struggling with." 
Finally, the work paid off as a fated phone call landed him a contract with the Sacramento Mandarins, which the hopeful drummer eagerly took. The Sacramento Mandarins is a member corps of Drum Corps International. According to Bush, the Mandarins is similar to a football player trying out for a scholarship at a top university. 
Beginning on May 31, Wiethoff will fly to Sacramento for spring training where he will stay with the group for five weeks. Each day will consist of  12-13 hour rehearsals for six days a week. Starting early July, they will go on tour around the country, making the final stop at the DCI World Championships on Aug. 13.  
Meanwhile, in the last semester of senior year, the leader continually pushes his peers to be better through example. 
"He's in second band," senior battery captain Caleb Brooks said. "The first band had a competition that was outside of Coppell, so we had to load up a whole truck for percussion. When we were coming back to Coppell to unload, almost no one from first band showed up. But by some strange coincidence, Cooper showed up. And instead of spending the time with his family, he helped us unload even though it wasn't his responsibility." 
Wiethoff will continue his education at the University of North Texas to study computer science. Although he won't be directly involved with music, he hopes to join the marching band there. 
"He's been one of the biggest inspirations ever since I started playing bass and has made me fall in love with it even more," junior Marcus Ollier said. "It just makes me want to be better." 
Follow @angelinaliiu and @CHSCampusNews on Twitter