Varied faces of a valedictorian: Vinayaka navigating vast worlds
Coppell High School senior valedictorian and debater Umang Vinayaka is profoundly self aware. His peers, teachers and friends contend that, in all honesty, it is frightful. 
Frightful that someone so young can possess such an intense command of the world around them, or worlds, because Vinayaka flits between them. From trudging through palaces of computational biology to dipping his toes in the waters of public policy and healthcare, his mind and voice know no bounds. 
"It has always been extremely interesting to me how Umang is so versatile and has interests in everything," said senior Suchit Ineni, a fellow World Schools debater. "I love to joke about how he is a debater who is simultaneously taking AP Physics C and maintains a fondness for sports."
Ineni and Vinayaka have competed alongside one another for four years, most recently championing the Texas Forensic Association's State Competition, the highest regard for a debater in Texas.
"Debate is a very unique space, because there are a lot of topics where you initially have a bias towards one side," Vinayaka said. "But, when you actually start researching, [you] switch to the other side. That's evident of how education really opens up your mind because you will always think something until you are proven wrong, but you will only be proven wrong if you're willing to learn in the first place."
Vinayaka's mind runs to mandatory voting as a tried-and-true example of the adage that there truly are two sides to a story, that debate topics are deeper than the surface. As he explains why, his cogent train of thought illuminates the very kind of debater and thinker that he is.
"Umang is a very analytical debater insofar as he is able to find arguments, the weaknesses in them and their perfect articulations," Ineni said. "The way that he is able to come up with responses so quickly is probably his biggest strength."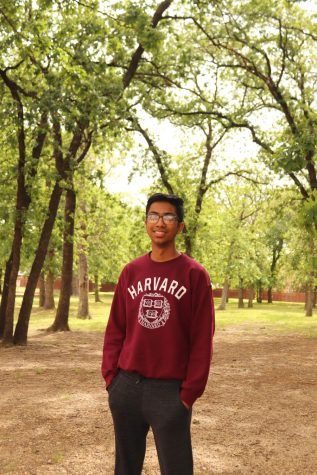 According to junior World Schools debater Anushree De, beyond his argumentation, Vinyaka laughs when his teammates—and closest friends—mock his boisterous speaking voice. Vinayaka beams when listening to his teammates speak, consumed by the back-and-forth in front of him. More importantly, Vinayaka reciprocates the level of attention and energy in his relationships that renders anyone seen and heard.
"Vinayaka is someone who will spend conversations asking about you, never once talking about himself," De said. "He is a student of few laughs, yet his subtle and childish humor is seen in his sly shoulder taps and his imitation of others' voices."
Vinayaka nurtures relationships in the little things such as asking about your day and if you are OK: little things that have a big impact. 
And within the plethora of spaces Vinayaka takes up, whether the classroom or basketball court, his unending connectivity and awareness glows. He is so aware, in fact, that he roots his pride in the potential to affect change in small ways, including meaningful dialogue generated in hour and a half debate rounds and long-term research in the field of computational biology. 
"I really enjoyed research because I think the implications of everything you do and research builds upon each other, which is something that I found really fascinating because it's not like I did my work in a vacuum," Vinayaka said. "Rather, it's something that I own, but everyone's able to use. The methods that I was able to explore and create are now being used by other researchers and using the experiences that I gained, I can go on to apply them to future research. Being able to go look back and realize that I actually made a potential impact in crucial fields  really gives me gratitude."
Vinayaka's array of research experience has taken him from facilities at the University of Dallas, where he explored evolutionary variants of COVID-19, to Los Angeles, where he examined cancer with research fellows at the  City of Hope National Cancer Institute. 
Living in a city 1,433 miles away from the Texas suburb he calls home for 10 weeks, Vinayaka frequented boba runs, bike rides and sightseeing as a grounding mechanism. That is because he is a staunch proponent of balance and time-management.
"I'm really good at figuring out what I want to do and what I need to do, but I think the challenge was formerly prioritization and realizing that I can't do everything that I want to do because I don't have that much time," Vinayaka said. "If you're just focusing on academics, you get to a point where you're unable to move on or you're unable to do the next thing because you're just drained by the fact that you've been doing that continuously. Spending an entire weekend doing debate and being removed from my classes or hanging out with friends outside of  academic settings made sure that I was able to refresh that love for learning."
While most struggle with maintaining a detailed and accurate calendar, Vinayaka has slowly developed a propensity for organization, utilizing only a scattered and jaunty approach to the notes app on his iPhone. Perhaps it is because of his genuine curiosity and hunger for education's many expanses: economics, statistics, life sciences and policy.
Despite his long list of accolades that include being one of 12 students on the National Speech and Debate Association USA Development team and, of course, valedictorian, Vinayaka has always honed in on the essence of learning in every experience he incurs. 
"I had a very interesting take on Umang because he was in my virtual class that too was my first year teaching [at CHS], and he let me know on a little 'getting to know you' questionnaire that he asks a lot of questions," CHS AP Biology teacher Dr. Bianca Benitez said. "I loved that because throughout the whole year he would stay on Zoom and ask me questions beyond the content area that even I was not ready for. His willingness to do more than what was required of him and desire to explore the 'why' has helped me grow as a teacher."
Vinayaka will study at Harvard University, concentrating in the liminal spaces between computational biology, economics and public policy."He has such varied interests, but his ability to connect them in his own way in varied instances is really what is special to see because he is not just singularly faceted, he is absolutely multifaceted," Dr. Benitez said. "Umang's potential has always been incredible. As a 10th grader, I saw it. His willingness to come and visit with me these past two years has shown me the immense breadth and depth of what he knows. Taking that and taking it to a place that I know is going to foster it assures me that he will do phenomenally well in all that he chooses to do."
While perceptions of a valedictorian are often one-note, Vinayaka proves yet again to be the exception. 
Follow Shrayes (@shrayesgunna) and @CHSCampusNews on Twitter.