Cowboys strikeout Lobos on Senior Day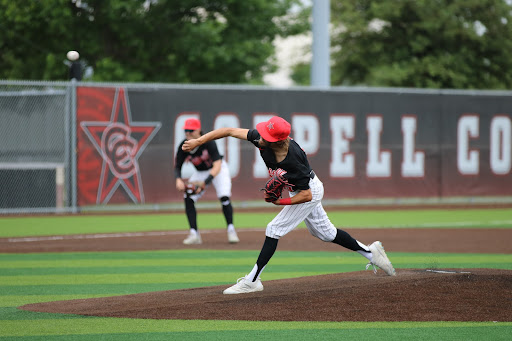 The crack of the bat resounds throughout the complex and young Cowboys in the stands wear the jerseys of the seniors.
The Coppell baseball team defeated Little Elm, 4-1,  on Saturday at Coppell ISD Baseball/Softball Complex. 
Saturday's game was not included in the regular season, but the Cowboys celebrated their seniors by switching their lineup to compose mostly seniors and enjoying a brunch with friends, family and players after the game.
"I've been waiting my whole life for this day," Coppell senior infielder Andrew Schultz said. "To have a day for just the seniors to go out there and play, and to win made it even better."
Both teams face a standstill, remaining scoreless until the fourth inning. 
At the top of the fourth inning, Little Elm senior catcher Paxton Markheim steps up to the plate. The Lobos have one out, senior first baseman Irvin Leonard on third base and senior infielder Brayden Howard on first base, waiting for an opportunity to score. 
Leonard watches with anticipation, creeping off the base and closer to home plate. Markheim softly taps the ball with a bunt, then speeds off to first base, Leonard dashing to home. 
Coppell senior pitcher Brandon Wenzel sprints to pick up the bunt, junior catcher Lucas Frederick staying at home to protect the plate. Wenzel tosses the ball to Frederick as Leonard begins to dive headfirst into home. 
As Leonard stretches out to touch the base, Frederick sweeps his glove across Leonard's back, a second too late.
The umpire stretches his arms out. 
SAFE!
After the Lobos scored the first run of the game, Coppell tightens up its defense afterward, gaining two more outs before another Little Elm player can slide in safely to home. 
As Coppell senior infielder Tanner Sever steps up to bat, Schultz begins to inch off of second base. Sever hits a ground ball past the second baseman and lands safely on first, Schultz rounding third and sprinting home. 
As Schultz scores, everyone wearing red or black cheers: the stands erupt in a wave of clapping and yelling and the Cowboys in the dugout holler and clang on the fence with excitement.
"Scoring our first run was great," Schultz said. "We haven't scored many runs lately, so getting that run and putting up four total felt good, as well as keeping the lead."
By the end of the fourth inning, Coppell senior catcher Liam Krauss, Coppell senior catcher Tristan Davis and Sever all scored. 
Throughout the beginning of the game, Coppell senior pitcher Brandon Wenzel recorded two strikeouts in each the second and third innings. 
"It's a big confidence booster when you're up on the mound," Wenzel said. "I came out and struggled a bit in the first inning and had a couple of balls, but I found the zone and started striking people out and that's what it's all about, being consistent and working quickly."
Coppell faces Plano East on Tuesday at 7:30 pm at Coppell ISD Baseball/Softball Complex. 
"We have to do our job these next couple games and hope from a little bit of help from Plano to beat Lewisville at least once and if that happens then we are in for sure. But if we win and Lewisville wins, then we will play each other for a play-in game," Coppell baseball coach Armando Garza said.
Follow @Avakjohnson4 and @SidekickSports on Twitter.