Cowboys defeat Black Bears on Senior Night
Victory lifts morale prior to final district game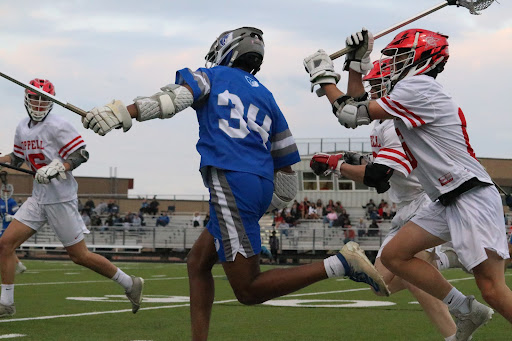 The seniors on the Coppell boys lacrosse team line up at the 50-yard line for the senior ceremony after the game, standing on home turf for the last time. 
"As our seniors set the tone, it trickles down to everyone else; it's contagious," Coppell coach Matt Mueller said. "Our seniors have done a great job leading by example and working hard and our underclassmen see that."
Tuesday night, the Coppell boys lacrosse team defeated Frisco, 9-2, at Lesley field.
The Cowboys originally scheduled their Senior Night on April 6 against Allen, but had to cancel the game.
Throughout the game, the Cowboys were able to keep a comfortable lead over the Black Bears. Coppell ahead 6-2 by the end of the third quarter. 
With 6:44 remaining in the game, Coppell senior midfield Sean Simpson drives along the left side of the goal line, then quickly darts in front of Frisco sophomore goalie Luke Leblanc. Simpson tossed the ball into the back of the net, extending Coppell's lead to 7-2. 
Just over a minute later, Coppell sophomore attack Cale Stricklin drove to the goal and tossed the ball into the net, increasing the lead to 8-2.
As the clock counted down to 2:11, Coppell sophomore attack Edward Griffin scored the final goal of the game after collecting a deflected shot off the Frisco goal.
"This has been one of my favorite years playing lacrosse because of getting to know the seniors," Griffin said. "It's going to be hard losing a lot of them and we're going to miss them on the field."
The Cowboys play Keller at Vista Ridge Middle School on Wednesday in the final district game of the season at 7:30 p.m. 
Follow @Avakjohnson4 and @SidekickSports on Twitter.