Lariettes leap through time with Spring Showcase
Lariettes dazzled audiences on Friday and Saturday with thrilling performances that took viewers on a journey through the past, present, and future. To set the scene, screens on both sides of the stage displayed unique videography including AI voices, galaxy themed backgrounds and screens mimicking technology failure to transition between dances.
"I love how it's so different from last year and its theme of movies,"  Lariettes director Hayley Mitchell said. "I feel like it's a story that takes you through time in different ways. I just love the different performances from the girls." 
The opening dance, "Time Machine," featured all of the Lariettes and was choreographed by line officers, juniors Payton Hardcastle, Elise Kniff and Tanna Robbins, and seniors, Jules Hunt and Dana Medel-Torres.
"It's such a fun, creative time spent together because the five of us officers work together with the directors," Hunt said.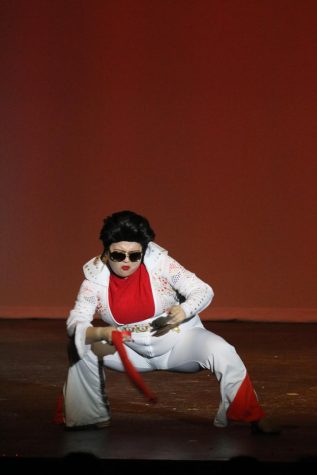 A key point in the show was the iconic Elvis Presley song, "I've Got a Feelin' In My Body," which not only brought viewers to the 50s with its polka-dot dresses but with an appearance from Presley himself. 
Lariette senior Elena Ramey obtained the role due to a severely sprained ankle.
"When I got hurt, the officers and directors asked if I wanted to be Elvis because I wasn't able to do the choreography," Ramey said.
Lariettes explored the corporate world with "Werk it," performed by current seniors, made to be set 10 years into the future. Viewers were brought into the future of space travel and AI with "Black Hole" choreographed by Lyndsay Renger, and "Technologic" choreographed by Heather Wallace. Medel-Torres performed a solo with the futuristic theme. 
"ICON was kinda just my final solo so I just wanted to put everything I had out there, and put every single drop of what I've learned in this one piece" Medel-Torres said.
Silver Stars performed the exciting "Ride On Time," and in great contrast, "Canvas," a sentimental piece, both choreographed by Hilary Clark. The variety in dance kept audiences eager, with dancers performing tap, contemporary, and their signature kickline.
"I think we truly worked together throughout the competition season and used our faces to portray different emotions in the different pieces," freshman Aditri Shulka said.
Lariette officers guide the audience back to the present time with "Home Again."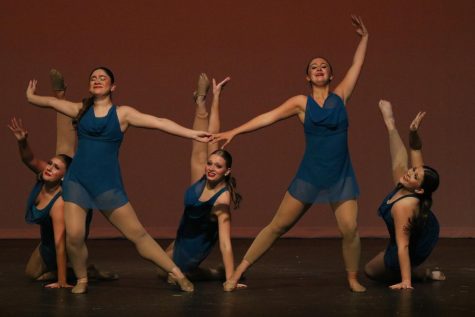 "'Home Again' meant a lot to all of us. We choreographed it together throughout the year and it was sort of like our last "hurrah,"' Medel-Torres said.
As confetti cannons blow, seniors reflect on their time as CHS Lariettes.
"I feel very proud to come from having three dances as a sophomore to now choreographing, and being in 9 of the dances this year. I feel very lucky, honored and proud to have made an impact on this show," Hunt said. 
Follow @CHSCampusNews on Twitter.