Uchis radiates crimson on Red Moon in Venus
A red moon is an infrequent occurrence. For the dusty scarlet hue to illuminate in the night sky, and the moon to descend into the umbra of the Earth, the sun, moon and Earth must be in perfect alignment.
The phases of the moon are an emblem of emotions and change, the red moon a token of reflection and inner-feelings. 
This is the notion explored in Colombian-American singer-songwriter Kali Uchis' new album Red Moon in Venus. Released on March 3, this marks Uchis' third studio album release.
After framing loneliness as destructive escapism in Isolation, her first studio album, and finding freedom from fear in Sin Miedo (del Amor y Otros Demonios), her second studio album, Uchis reflects upon her growth through Red Moon in Venus. 
The 25-second first track, "in My Garden," amply sets up the lush atmosphere of the album through the euphonious, cricketing sounds of nature and the chirping of birds. Uchis greets the listeners warmly by expressing,"I just wanted to tell you, in case you forgot / I love you."
The chirps of birds and nature segues seamlessly into the beginning of the passionate second track "I Wish you Roses," on which Uchis embraces her garden as she sings about the compassion, symbolized by roses, she is giving and receiving. She voices, "With pretty flowers can come the bee sting / But I wish you love, I wish you well / I wish you roses while you can still smell them," in an elegant verbalization of the importance of releasing people through love whether it hurts or not, because holding back hurts even more. 
Uchis continues to implement her R&B style in this album. In comparison to its predecessors, there is more soul put into it. It exudes dreaminess within every breath. In Isolation, Uchis's strong and powerful sound mirrors the bitterness she once held toward affection; in Red Moon in Venus, the bitterness is transformed into satisfaction, translating into her silky tone.
"All Mine" stands out as a clear signal of Uchis' newfound confidence in herself and her love life. Singing, "Don't gotta fight for what is mine / You couldn't keep even if I gave him to you," Uchis has never sounded so sure of herself. Red Moon In Venus's true purpose is to display her growth and take victory in the joy she has found––and the album clearly accomplishes its purpose. 
In "Moral Conscience," listeners experience a juxtaposition between Uchis' alluring voice and  her impassioned lyricism about karma and its revenge. She pleads, "Surrounding yourself with praise / But the truth sets in on those nights alone," showcasing how karma will always find its way around for the wrongdoings of one's moral conscience. 
Even if she is singing about resentment, Uchis doesn't fail to let lyrics fall off of her tongue gracefully. This is prominent in "Love Between…," where she nimbly expresses her thoughts about love and how its beauty has a chokehold on her. The instrumentation of the song accompanies her lovesick harmonies throughout as each guitar chord strung and drum beat supports the slow beat. 
In the hard-hitting track "Deserve Me," featuring R&B singer Summer Walker, Uchis delves into the recognition of self worth and leaving situations that are not worth your time. The collaboration between the two artists' voices feels empowering as you can hear their vehemence build up throughout the song.
The ending of this song feels the most personal as Uchis confronts, "You think you're so discreet / I see what you did there, what you doin' to me" and "You played yourself the saddest violin / I bet you thought I didn't see it comin," There's a satisfaction in having the last word.
Uchis also features R&B/alternative singer Omar Apollo in "Worth the Wait," and R&B/trap singer Don Toliver in "Fantasy." Both songs highlight how being loved and pampered is not an unrealistic expectation, and the masculine voices of the two featured artists balances out Uchis' feminine touch.
Lead single "Moonlight" adds a fun, girly touch to the album with its pop-take and quicker tempo. The grooviness of the song is supported by its production; the song's use of snare drums as well as the sounds of glitter being sprinkled in the background of her singing makes this bubbly and blissful song a perfect single.
After the Spanish-sung album Sin Miedo (del Amor y Otros Demonios), it was enjoyable to hear Uchis implement her prowess in this album, especially through "Hasta Cuando" and "Como Te Quiero Yo," where she switches from singing lines in Spanish to English with clear ease and precision.
The album has its happily ever after with the bracing last track "Happy Now." As the album opens, it similarly closes: with the tranquil sounds of nature and the birds, reminding us that at the end of the day, peace and contentment of the mind is what is needed for the happiest heart.
Red Moon in Venus is an intricate tapestry of emotions intertwined together to tell a story of love, heartbreak and growth. Uchis' ability to be intimate and vulnerable with herself in this album through her sublime vocals, psychedelic production and metaphorical lyricism is spellbinding, truly embodying the titular red moon. 
Follow Sahasra (@sahasrachak24) and @CHSCampusNews on Twitter.
Leave a Comment
About the Contributors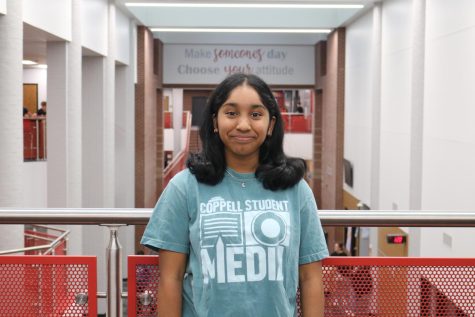 Sahasra Chakilam, Staff Photographer
Sahasra is a sophomore and a staff photographer for The Sidekick. She loves to watch sitcoms, listen to Taylor Swift or Phoebe Bridgers, and bike with...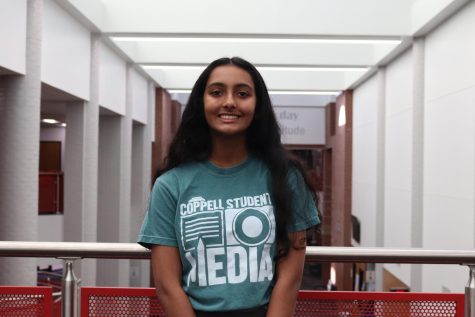 Manasa Borra, Staff Designer
Manasa Borra is a sophomore and staff designer at The Sidekick. She loves playing badminton and reading mystery novels in her spare time. You can contact...