CHS doubles up on second placements at state science fair
On Friday and Saturday, four Coppell High School juniors, a trio comprised of Trishay Naman, Anish Kalra and Dhroov Pathare competing in Biomedical Engineering and a solo contender Rishika Porandla competing in Earth & Environmental Science, vied for glory at the Texas Science & Engineering Fair (TXSEF) at Texas A&M University. The number two proved significant as both groups placed second in their respective categories, a sweep for Coppell.
The contenders competed against students from 14 other regions in their respective categories, going through numerous interviews and elevator pitches to convince judges – acclaimed professors volunteering their time – about the viability and novelty of their projects.
"A moment that I remember super clearly was when I was talking to a certain judge who actually curated the AP environmental science curriculum (Dr. Bonnie Jacobs)," Porandla said. "I was speaking to her and presenting my projects, and she actually started crying because one of the concepts that I used in my project was something that she's specifically curated for the AP environmental science curriculum, and it just inspired her to see that students were learning from things she created and turning it into actual research. She ended up giving me a judge's choice recognition which was extremely rewarding."
To ensure a high placement, Naman, Kalra and Pathare took their feedback from the regional competition – the lack of clinical trials to test their device on – and worked on finding test subjects for the state competition. The trio went to the ophthalmology/eye care wing at Baylor Medical Center over three days during spring break to test 30 patient volunteers using their project.
Their project entailed creating a device that would capture images of a patient's retina to help diagnose possible disease.
"We got 30 images, which ranged in diseases from diabetes to glaucoma to cataracts," Pathare said. "Using those images, we used an AI engine to match 94 percent similarity to medically approved images that are out there, which basically means that the images we took off our device were 94 percent similar to images that are taken professionally. That was a big achievement for us, because that served as proof that our project, our product could be used to diagnose diseases."
The idea for their project stemmed from a personal experience, Kalra's grandfather's diagnosis.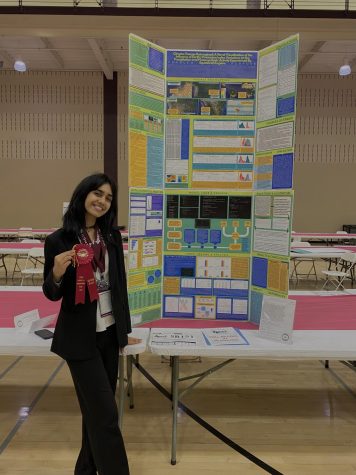 "A few years ago I went to India and it was in the last few legs of my grandfather's life," Kalra said. "I saw firsthand what the lack of medical care meant in developing countries because his vision deteriorated, his blood flow circulation stopped and his foot was amputated and he passed away. He was a guy with a Ph.D. and a hefty pension so he lived a middle-class life and did not have access to healthcare. That really opened my eyes to the lack of medical care that's present in developing nations for the middle and low class and that's what inspired the project."
Porandla also made alterations to her project from judges' comments at the Dallas Regional Science and Engineering Fair, doubling the size of her board to add new analyses of her data and to provide a more holistic view of her project. 
"My Dallas fair project was very data heavy and graph heavy," Porandla said. "But there wasn't exactly a holistic form of data analysis or statistical analysis that would actually prove that my algorithm was superior to the current algorithms that people use for climate models. I actually developed my code further too. Even though we weren't allowed to collect any additional data, I ended up doing a lot of new interpretations of the data that I already had, and this allowed me to figure out the accuracy. I really demonstrated to the judges that what I was doing was especially novel and a new contribution to this field of long-term climate change analysis."
Their hard work paid off with second place for both groups. Both teams will be trying their hand at the science fair again next year, with their eyes on the coveted prize: 
The Regeneron International Science and Engineering Fair (ISEF). ISEF this year will take place from May 14-19 in Dallas at the Kay Bailey Hutchison Convention Center
Follow Sri (@sriachanta_) and @CHSCampusNews on Twitter.