Caballero driving home sustainability through spring-cleaning themed capstone
From time to time, New Tech High @ Coppell senior Arwen Caballero spots upholstered couches, reams of copy paper and flared-leg jeans dotting the landscape outside of her apartment in Townlake of Coppell. 
Recycling, what Caballero recognizes as a relatively simple and effective process, is one largely ignored by her immediate community. In fact, Townlake of Coppell put a halt to its recycling program due to its lack of utilization by the residents calling the complex home. 
Shock is an understatement. 
"You see big pieces of furniture, jeans or perfectly recyclable items being thrown out all the time," Caballero said. "In my process of [contacting] people, I found out that in my apartment complex, they don't have recycling at all. I thought 'wow,' but [I learned] my apartment complex had to take it out because people didn't use it at all. It's disappointing."
While Caballero cannot control others' choices, she continues to seek out an active role in remediating and revitalizing the environment.
Plastic water bottles and old letters pile up in a corner of her kitchen, awaiting the fated day that they are dropped off at a local recycling center. Caballero and her mother Ginette Caballero have been making these routine trips in order to ensure they do their part, despite having to pay a $26 fee: the hefty cost of climate action. 
"It's really frustrating because there should be more effort going into our recycling programs," Caballero said. "I feel like that should be our number one [priority]. I can understand why other people find it inconvenient because the system itself is not going the extra step."
In a multitude of efforts aiming to serve the planet—due diligence as she sees it—Caballero has diagnosed the root of the problem: access. Access in her eyes looks like the very fact that for many, recycling is simply inconvenient, especially when community organizers do not offer programs in the first place. 
"It makes me sad to think that they wouldn't be continually looking for ways to reduce their impact and clean up their mess," Coppell High School Eco Club sponsor Jodie Deinhammer said.
Deinhammer contends with Caballero's perspective that the lack of individual efforts to galvanize change are rooted in a lack of education and access.
"Everybody should reach out and look for opportunities to participate in because there are so many of them out there," Deinhammer said. "When people know where it needs to go, they are more likely to participate."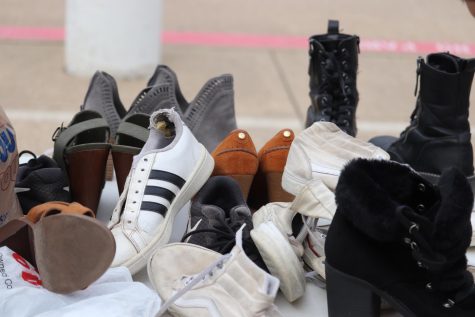 Caballero, noting the issue at hand, focused her [email protected] senior capstone project to facilitate convenience, promoting a sustainability drive that accepted old electronics and clothing to be upcycled by local organizations including Soles4Soles and the Dallas Zoo through its partnership with Eco-cell. 
Capstone projects are a tradition at [email protected]. Targeting a societal issue, students are propelled to curate a local solution. Caballero turned to environmental action without a second thought. 
Weeks researching local upcyclers, months advertising and promoting the event, and days-long email back-and-forths culminated in Caballero's "Spring Cleaning: Sustainability Drive" hosted in [email protected]'s student parking lot on Feb. 18. 
"Arwyn has been one of the hardest working and persistent learners I've had in my capstone class this year," [email protected] mathematics facilitator and capstone advisor Anthony Hufford said. "I serve merely as a mentor to these seniors, providing motivation and offering advice when they run into roadblocks. Arwyn needed almost none of this advice, though, because she worked so hard at checking every angle and avenue she needed to make her event a success. She would check in with me voluntarily almost every single class day to update me on her progress and seek my advice, but I had very little to give her since she was taking care of a lot of the work on her own."
At the end of the day, Caballero bagged all of the donated goods from clothes to electronics, she smiled easily. The trash bags stack up in her mother's trunk—30 of them—each sequestering an estimated 60 to 70 items of clothing. 
As for electronics, while the smaller items are blurred in retrospect, Caballero distinctly recalls three tablets, three iPhones and an Apple Watch that were quickly dropped off, sandwiched between a bounty of T-shirts and shoes. 
Despite the environmental remediation Caballero propagated, her favorite moments were those in which she shot a passing smile or glance to other members of the Coppell community. 
"It was nice, because [I] connected with the community," Caballero said. "With the advertisement process in general, I found myself connecting a lot. As I walked around with the flyers, I was like, 'I didn't know this existed. I gotta tell my friends about this.'"
It is evident that Caballero is eager, and it translates into her environmental efforts. Within 24 hours of the drive, each sack of clothing and tub of electronics were dropped off at Soles4Soles and the Dallas Zoo, respectively. 
While saving the planet is a daunting task for a singular high school student, Caballero proves that there are universal steps in making your mark from researching organizations to recycle and repurpose a variety of items to reaching out to friends and family to take the extra step. 
Follow Shrayes (@ShrayesGunna) and @Chscampusnews on Twitter.