Jade de Rios fostering comforting ambiance in classroom
After leaving her hometown in France and spending three years in Mexico City as a French teacher in 2005, Valerie Jade de Rios arrived in the United States to become a Spanish teacher. Jade de Rios has been teaching for the past 18 years, after teaching at a multitude of schools in Mexico City, this is Jade de Rios' first year at CHS. With a passion for language and teaching, Jade De Rios cultivates a welcoming environment for her students.
What was your personal journey in learning Spanish and teaching?
I grew up in France, and I learned Spanish there. When I was learning, I took many trips to Spain. Being in that atmosphere helped me learn quicker. I had a true passion for languages and I got my master's in Spanish when I was in France. Then, I lived in Mexico City where I taught French for many years, and then I started teaching Spanish in the United States. I have been teaching for 18 years now.
How would you describe your teaching style?
I am very passionate about language, specifically French because I am from France, but I teach Spanish. It's very important for me to transmit my language, and in order to do that, it's important for me to make my students feel comfortable and interested in learning. I feel like your teaching style comes from your personality, and there are many different types. My personality is to be dynamic and to share my knowledge.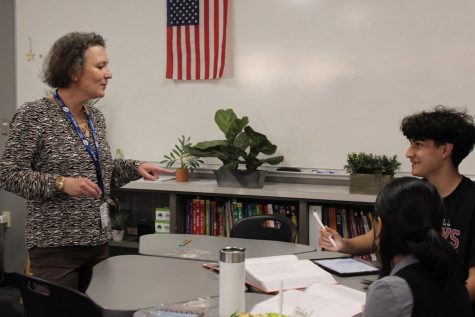 How do you encourage students to participate in class?
I think the best way to encourage students in class is to have a trusting ambiance, so they feel comfortable to participate. Sometimes there's a language barrier which makes them nervous, and they are scared to make mistakes. I always want to remind them that they can learn from their mistakes, and that it's not a problem. It's important to always be in a good mood and to smile.
Have you always wanted to be a teacher?
When you want to study a language, you can do a few careers, such as an interpreter or translator; but at the end of the day, you're not exactly sure what to do. I grew up surrounded by teachers, so being a teacher was a natural choice for me. I like to teach language, to be with students and I really like the dynamics of being a teacher.
 What have you learned from teaching your students?
You can always just be an instructor that gives orders and manages their class, but at the end of the day, I realized each student has a different story to share. I discovered that you can really see the human side of each student and that you can share and make connections.
 What's your favorite part of being a teacher?
For me, being a teacher feels like being an actress. I feel like my classroom is my space, and I enjoy making jokes and interacting with students. I love how much I learn from my students, and I just like being in a classroom.
Follow Anvita Bondada (@anvita_bondada) and @CHSCampusNews on Twitter.