Boys take first, girls second at annual Coppell Relays
Hosting its only home meet of the year, Coppell Relays, Coppell track and field successfully defended home field with a victory in the boys division and a second place finish in the girls division on Saturday at Buddy Echols Field.
Coppell boys finished with 170 points, beating the second place team (Flower Mound Marcus) by 24 points despite losing 20 points due to a disqualification in the 4×100 meter relays.
"The baton drop was huge," Hill said. "We got the stick right there in first place, that's 20 points, we know nobody is going to catch [Coppell sophomore Matthew Maldima]. We were on pace for the school record at sub 42 [seconds] which would've been awesome but we'll get there."
Following the baton drop in the 4×200 meter relays, Coppell needed a strong showing in the 4×200 meter race. Stepping (or running) up was Coppell A – comprised of junior Zach Cody, junior Rodney Ates, senior Nicholas Searight and senior William Dudley – who finished second with a time of 1:30.08, putting Coppell in position to take the meet.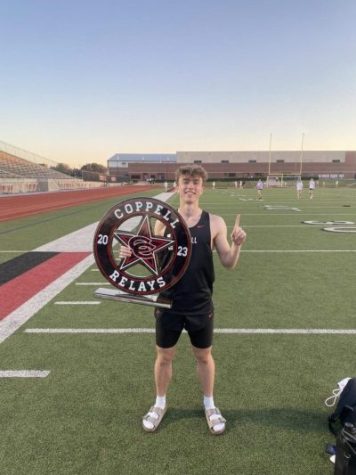 "It's everything to us to be able to defend our own track," Searight said. "We knew we had some competition with [Flower Mound Marcus] coming up, but we came prepared and ready to win. All week leading up we prepared as much as possible to show up and put on a show for our own fans."
The Coppell girls team was not without its own standout performers with seniors Megan Judd and Sky Schuller setting records in the high jump at 5 feet, 9 inches and pole vault at 13 feet, 6 inches, respectively. 
"It's very important [for our underclassmen] to see our seniors finish so well because that's our depth," Hill said. "We have to be able to give Sky and Megan a break, so if our JV runners are doing well we can move them up to give [our seniors] a break."
Coppell finished first in 10 events, with 27 total top 3 finishers helping them succeed in the competition.
"After our success from [turning] an undefeated season into a district win last year, every meet is important to retake [the] district," Searight said.
Follow Sahith Mocharla (@SahithMocharla) and @SidekickSports on Twitter.