Cowgirls fall to Leopards in first home game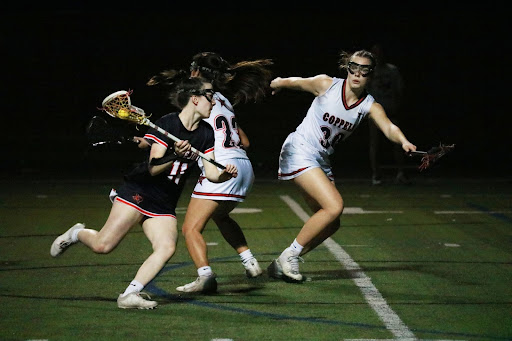 A warm wind blows across the field, the distant clanging of metal sticks resounding in the background. The Coppell girls lacrosse team battles for each goal they score, while attempting to deter Lovejoy from scoring. 
Tuesday night, the Cowgirls fell to Lovejoy, 18-13, in the first home game of the season at Coppell Middle School North. 
The Cowgirls took the lead at the beginning of the game after Coppell midfielder Ally Gunnels launched the ball from the right side of the field to Coppell midfielder Kate Nelson, putting Coppell ahead, 1-0. 
Less than three minutes later, the Leopards retaliated. Lovejoy's Helayne Dechant drove through the middle of the field until she faced Coppell goalie Coley Haworth. The ball slid past Haworth into the goal, both teams tied, 1-1. 
A few minutes later, Ava Palazzolo scores a goal for Lovejoy, setting a lead for the Leopards that will continue the rest of the night. 
"No one likes losing but we take opportunities like that to get good reps in and stay disciplined," Coppell girls lacrosse coach Logan Hendrick said. 
The Cowgirls graduated 11 seniors last year, leaving a lot of space on the team for new players to join. According to Hendrick, the team has players on the field starting games now that have never started at the varsity level, and the team is focusing on rebuilding from a skills standpoint. 
The Cowgirls look ahead to their game against Keller on Saturday. 
"We need to be there for each other as a team and just play for each other," Coppell midfielder Sydney Gunnels said "We played individually tonight and we just weren't together on the field."
Follow Ava (@Avakjohnson4) and @SidekickSports on Twitter.