Black History Month: Arterbery strives for students to shoot for the stars
Following Leader in Me path to pave a better future for students
Embarking on her journey at Coppell ISD as the principal of Valley Ranch Elementary 23 years ago, Cynthia Arterbery to this day remains circulating fervor amongst children in her position. 
Throughout her experience, Arterbery is able to become the lens of VRE as she has seen the school and community transform over the years.
Artebery attended the University of North Texas with a degree in Education and began teaching in Dallas ISD directly after her graduation. She also taught in Houston ISD, which is when she acquired her master's degree in administration from Texas Southern University and decided to take on her first job as principal in the school district.
Arterbery soon moved to Atlanta where she was a principal and an executive director for Cobb County ISD elementary schools, and afterwards, shifted to Phoenix where she worked as a principal in Mesa Public Schools. Due to her husband's work shifting to Dallas, Arterbery began working in CISD as principal of VRE in 2000.
"I love working with children," Arterbery said. "I wanted to make an impact for not only one or two children, but to many, and being a principal allowed me to make that difference to a large number of students."
To bring this desired impact into fruition, Arterbery implemented programs into VRE students' learning environments such as Project-Based Learning (PBL), and in 2017, the school started Leader in Me, an organization with a mission of building students' skill sets and constructing successful educational spaces across the country. 
"The students did very well in [PBL] and some of the students who participated in PBL still practice some of the skills that they learned, such as collaborating with others and cooperating with a team," Arterbery said. "From there, our staff and I decided we wanted to take on a new journey with Leader in Me."
Through the seven principal habits entailed in Leader in Me, Arterbery was capable of cultivating essential skills that will benefit students as they mature. Arterbery hopes that as the school completes excelling in the program, they acquire the Lighthouse Certification which allows the school to be recognized specially for their devoted participation in Leader in Me. 
"It has been a great journey with Leader in Me," Arterbery said. "The program teaches habits such as being proactive and synergizing which is important for children as they are lifelong lessons that the program instills everyday in the classroom."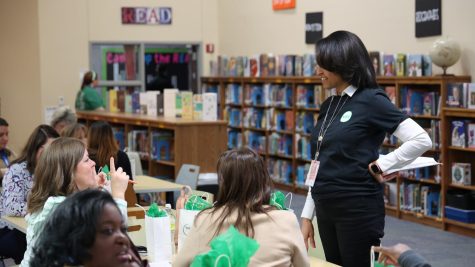 Arterbery finds it important that students learn how to make their mark in the atmosphere around them at a younger age to ensure that they learn how to be confident in their abilities.
"There is the eighth habit in Leader in Me that you won't hear a lot about which is sharing your voice," Arterbery said. "[At VRE] we provide student-leadership opportunities and jobs that our students applied for and are a part of everyday, so they are able to share their voice and be a bigger part of the school community."
As Valley Ranch has experienced an increase of a South Asian population throughout the years, VRE's demographic transformed to a predominantly Asian. In response, Arterbery aids the new students from different countries by providing a comfortable learning space that allows them to pursue their diversity.
"I love the diverse and tight-knit community [at Valley Ranch] and how our families come together and support us as a school," Arterbery said. "Right now, about 98 percent of our students are from India and having that diversity in our learning environment is very important, not only at VRE but also in our day-to-day lives."
Outside of CISD, Arterbery also benefits the education field by participating in organizations such as the Texas Elementary Principals and Supervisor Association which is specialized for administrators and supervisors. She also participates in several non-profit organizations that impact education such as The Links Incorporated, a prominent Black women service organization, that provides students with more opportunities in STEM.
To carry on VRE's reputation of being home of the stars, Arterbery hopes that students remain shining bright and bring out their full potential throughout their education and lives. 
"I hope that students shoot for the stars and provide and do their very best in whatever they do," Arterbery said. "I want them to know that it is okay to take a risk, that you can always learn from failures, and that it is important to be independent and self-driven."

Follow Sahasra (@sahasrachak24) and @CHSCampusNews on Twitter.