Fighting for her way
Park exemplifying taekwondo prowess in elite tournaments
In the otherwise dimly lit and empty shopping plaza in Plano, the warm inviting glow of mustard yellow walls poured through clear window panes, illuminating the White Tiger Martial Arts and Taekwondo dojang.
Despite the freezing rain just outside the brick exterior, Coppell High School junior Jisu Park arrived promptly at 7 p.m. and began stretching her legs. She grabs a black folding chair for balance, utilizing a strap to lift her leg above her head.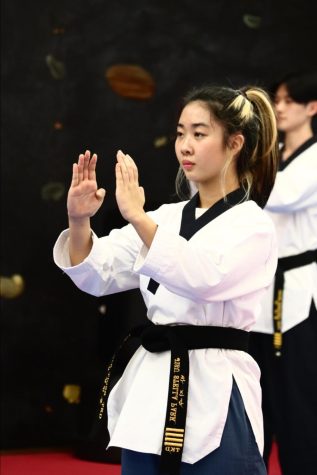 Feeling satisfied, she begins practicing taekwondo forms on the soft multi-colored mat, rhythmic movements bringing her closer to the Korean and American flags that hang side by side in the front of the dojang.
Her face is concentrated and unwavering, each breath calculated and steady. She moves through the forms several times by the count of her master, replicating each of the 24 positions with perfection. 
Park's high kicks resemble those performed on the football field with the Lariettes at halftime, her flexibility and lithe figure carrying out the duties of martial and dance arts. 
Park started at NCAA Taekwondo in Coppell after moving from New York in 2012. Competing at a national level was not the most important goal, rather the aspect of self defense. Moving through her years in the sport, she began competing in local and regional competitions whilst trying to find a dojang that supported her needs.
"My masters encouraged me to compete because I worked hard and they wanted me to represent the team," Park said. "I started around fifth grade. I competed often, but only in local and regional competitions. Towards the end of eighth grade, I moved to Kim's Taekwondo School for a short amount of time. It wasn't a bad school, it just wasn't productive for me and the goals that I wanted to achieve. I then moved to Dragon Skin Taekwondo, but I felt like I needed to move. I went to White Tiger's taekwondo, which is now my base taekwondo school." 
Getting home from school, Park has a tight window where she can complete homework and relax. She arrives at school every morning at 8 a.m. for Lariettes practice. On Mondays, she rushes to gymnastics practice when the 4:15 p.m. bell rings. On Tuesdays and Thursdays, she trains at White Tiger. On Saturday, she travels to Texas Forge Taekwondo in Fort Worth to train with her competition team for five to eight hours. 
"When I first met her, I was intimidated because of how good she was," competition teammate Jamie Bang said. "She doesn't give up and concentrates. She doesn't lose her confidence." 
"
Don't let that sweetness fool you because when she steps on the mat, she is such a fierce competitor."
— AJ Munouz
Last summer, Park was invited to compete at the Pan American International Championships in Costa Rica, where she represented the United States in Freestyle Pairs and placed second. 
"There's so many friends, so many good people," Park said. "I like taekwondo. I don't know if there's a deeper reason than that, but just doing it makes me happy. The feeling of winning is not everything obviously, but whenever my hard work pays off and I achieve a goal that I set for myself for each competition, it just makes me want to work harder than before. Learning discipline and managing my time has made me love the sport even more." 
Park was one of the top 16 athletes in the world in her event to be invited to compete in the 2021 Grand Slam competition, but did not place. However, the following year, she was invited back to the Grand Slam in Colorado Springs. Park placed second for her individual freestyle. 
"What impresses me is that no matter how early [Park] comes in or how late in the day she stays, she's always giving 110% effort," competition master AJ Munouz said. "She always wants to make sure that she's making progress towards her goal whether that's big or small. [Park] is a really sweet person. Don't let that sweetness fool you because when she steps on the mat she is such a fierce competitor. That really shows a lot about her character overall. She's got so much determination for whatever goals she has and I know that she'll succeed in anything that she does. I think that's something very special to see." 
However, Park's involvement with the arts does not stop there. Up until ninth grade, she played the violin and became  first chair for the full harmonic orchestra. Although she quit due to scheduling issues, she still continues to explore her other hobbies such as painting, drawing and swimming. 
In the future, Park hopes to compete officially on the USA National Team and join it for the 2024 technical competition. 
"One thing I always believe in is working hard, especially through taekwondo," Park said. "I have seen that working hard will never turn out bad. People always assume that I'm forced to do these things. Why would I take six AP classes? Why would I train so hard until my body literally hurts? It's because I truly like it. I've developed a stronger passion as I go by. I like to challenge myself because I know my limits. "
Follow Angelina (@angelinaliiu) and @CHSCampusNews on Twitter