Cowboys ride offensive surge to victory in 69-58 win over Plano West
On Friday night, the Coppell boys basketball team took on Plano West in a show of offensive dominance resulting in a 69-58 win at the CHS Arena.
The first half started off strong with an offensive surge resulting in seven 3-pointers from junior guard Alex Tung and junior forward Arhan Lapsiwala.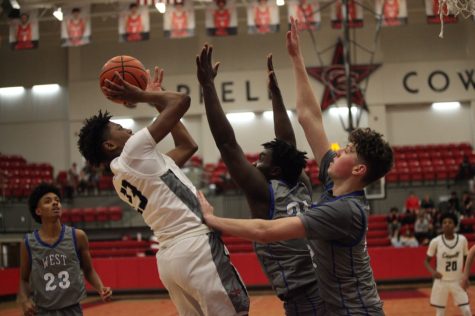 In the third quarter, the Cowboys seemed unstoppable on offense. Almost every possession resulted in a score and there were back to back 3-pointers from senior forward Alex Ninan which ignited the crowd leading to multiple chants of "It's Ninan time!"
The Cowboys finished strong and will look to make a playoff push as the finish district 6-6A play on Tuesday against Flower Mound Marcus.
"It feels great," junior center Baron Tipton said. "We just have one more to go to have a shot at playoffs, we dominated on offense, we just need to clean up the mistakes and the little things."
Follow Nyah Rama (@nyah_rama) and @CHSCampusNews on Twitter.