Pathan marching forward with prestigious Blue Stars
With almost 50 competitors vying for one of 10 spots in the Blue Stars Drum and Bugle Corps for the 2023 season, tensions are high and chances are low.
Coppell High School senior Arman Pathan is one of the applicants who surpassed the competition, and will be touring the country with the Blue Stars this coming summer.
With the Blue Stars Drum and Bugle Corps, musicians from ages 18-22 audition to perform in Drum Corps International (DCI) competitions around the country. One of 13 founding corps of DCI, Blue Stars was founded in 1964 and is based in La Crosse, Wis. 
Auditions took place at Coppell High School in December. Students were required to perform both musical and visual audition pieces, and would be selected based on their performance.
Pathan originally took interest in the trombone when he was choosing classes before middle school, and was drawn to the communal energy of the trombone section at CHS.
"When I was in sixth grade and choosing an instrument, I had a friend who was a high schooler at the time who was a trombone player, and he told me about the family-like feeling the section had, which was the main reason why I picked it," Pathan said. 
According to CHS Band directors, Pathan enters the band hall each morning with an exuberant disposition and an impetus to learn. As a wind symphony performer, he is willing to take constructive criticism  and consistently active in class.
"[Arman] brings a lot to the program with his determination and drive to be a great player.  He also has such a great attitude, so he brings a lot of joy to the band," CHS head band director Kim Shuttlesworth says.
As unique as an opportunity to march with the Blue Stars is, this is not Pathan's first experience with DCI. Last summer, Pathan performed with a group called Genesis.
While Genesis and the Blue Stars are similar activities, practice for Genesis took place in Austin while practice for the Blue Stars is taking place in Forest City, Iowa. The Blue Stars tour is also notably longer than the Genesis tour, extending 10 days.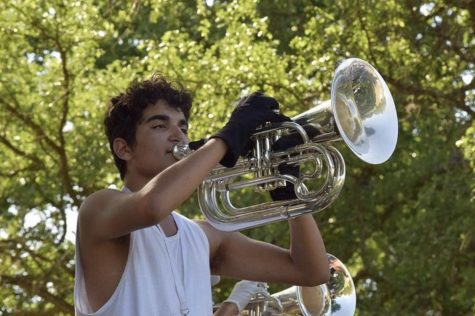 "There's a big difference between what we do at Coppell High School and what we do at the level of Drum Corps, so that change won't be as different," Pathan said. "It also was really helpful for the audition process this time around because it showed that I had experience and I was able to really portray that in my audition."
With immense competitiveness from both education and the band program, rigorous practices and the arduous audition for the Blue Stars, it is easy to get burnt out; however, instead of succumbing to the pressure, Pathan thrives from the competition and cultivates healthy methods of tackling his workload.
"I try to focus on making time for everything," Pathan said. "I'll see how much homework I have, then I'll see how much time I have to practice the trombone. I think if I keep everything balanced, I can stay on top of everything."
When Pathan begins to feel unmotivated, he confides in his peers and teachers and trusts them to help him, specifically his private lesson teacher Jon Bohls.
"I remember in around the eighth or ninth grade, I was feeling really unmotivated and I didn't care about my instrument as much. Mr. Bohls really helped me find motivation and encouraged me to keep playing," Pathan said.
Bohls believed in Pathan's talent and encouraged him to keep playing. He knew that he had the intrinsic motivation to persevere.
"Arman is always very outgoing about what he's doing, and he's definitely one to stay up with the competition. He's not one to sit back and just wait for something, he works really hard," Bohls said. 
Pathan cites the support of those around him to his success as well. Intense environments like that of band, he says, are the best for making lasting friendships, and as he heads back into that intensity this summer, he's excited to jump back into the fray. 
"Last summer, in the three months I was touring, I met people who I would consider closer than even people I've known for a long time," Pathan said. "You're stuck with the same people for three months 24/7, which creates really great bonding experiences which are truly unparalleled."
Pathan's journey with the trombone is not ending with high school, nor with DCI. In college, he is planning to double major in both computer science and the trombone, and one day wants to perform in an orchestra or wind symphony. 
"I hope that one day no matter where I end up, that I can just keep playing my horn. Whether  that's practicing after work or submitting to assorted contests, I just want to make sure I'm playing and getting better," Pathan said.
Follow Anvita (@anvita_bondada) and @CHSCampusNews on Twitter
Leave a Comment
About the Contributors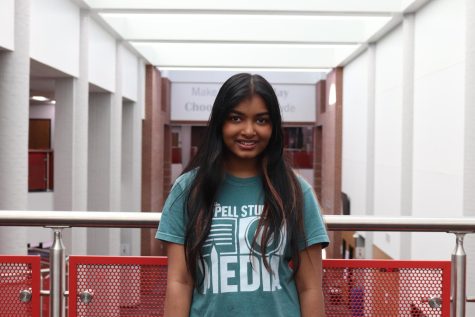 Anvita Bondada, Staff Writer
Anvita Bondada is a sophomore and a first year staff writer on The Sidekick. She enjoys baking, listening to music and doing her nails. She likes writing...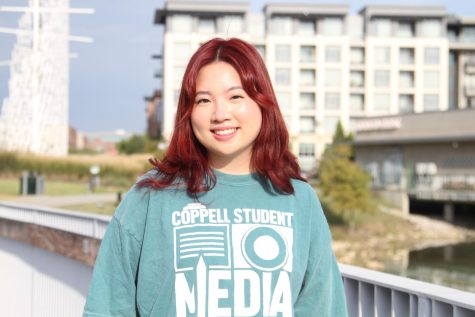 Angelina Liu, Executive Editor-in-Chief
Angelina is a senior and the Executive Editor-in-Chief of The Sidekick. In her free time, she likes to listen to sad music, spend too much of her paycheck...