Council to brand Coppell as a smart city by 2024
At Tuesday's Coppell City Council meeting, the council was presented with recommendations by the Smart City Board to make Coppell a more technologically advanced city. Board Chair Ramesh Premkumar recommends having Coppell branded as a smart city by 2024.
"I was in a meeting this morning on Smart Cities,"  Coppell Mayor Wes Mays said. "They gave three criteria for a city to consider itself to be a Smart City. One of them was to have a working group, and I consider our board to be that. Two, have a strategy in place and I consider what [the Smart City Board has] done and are doing the strategy and have citizen and elected member involvement. And so we fit all three of those criteria. So, 2024 is a good answer."
The Smart City Board's task is to "evaluate the future needs of the community from a Smart City perspective," according to the City of Coppell website. The Smart City Board talked about introducing autonomous vehicles as a transportation service in the future to the city to decrease traffic when autonomous vehicles become commonplace. Premkumar recommends establishing a relationship with the Texas Connected & Autonomous Vehicle Task Force to help this idea become a reality. Board member Erin Bogdanowicz presents the idea to introduce robots, automation and artificial intelligence into the workforce in areas such as construction and to aid first responders and law enforcement.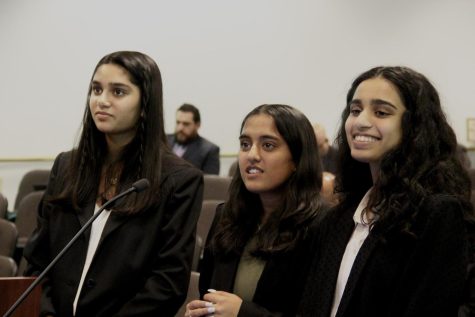 During citizens' appearance, three Coppell residents shared concerns regarding Wagging Tail Dog Park. Similarities in the concerns include the early closing hours, which restricts full-time employees from using the park during open hours, and the lack of maintenance and repairs compared to other Coppell public parks which lowers the quality of the park and brings concerns for public safety.
"There's been a lot of investments in the parks," Coppell resident John Gorman said. "To see them grow over the years, the trail system, Andy Brown [Park] West, has been fantastic. I'd like the same level of investment for the dog parks."
The meeting started with a presentation about heart health by Coppell High School HOSA sophomores Saanvi Gaddam, Sriya Meduri and Mihika Patki. The presentation includes steps the city could take to help prevent heart disease in residents, such as taking steps to reduce urban sprawl, air pollution and traffic congestion.
Two zoning change requests were approved with conditions. First was a request to revise the zoning of Victory Shops at Coppell for the overall development of the site and to allow for a combination of retail, restaurant, offices, medical office, and daycare on 10 lots totaling approximately 16.77 acres of property. 
The second zoning request was to revise the zoning of 2.7 acres of property located on the northeast corner of N. Coppell Road and State Highway 121 to allow for three retail/office buildings. There were three letters of opposition against it, one with concerns about traffic, the second having concerns about it being a nuisance to nearby residential areas, and the last listing no reason.
Follow Iniya (@iniya_v) and @CHSCampusNews on Twitter.