Cowboys first-time champions in NTX Elite Showcase
The Cowboys finished as the Black Division NTX Elite Showcase Tournament champions for the first time since the tournament's conception in 2018. On Thursday, the Cowboys defeated Harlan, 3-1, in the penalty shootout. On Friday, it won over Southlake Carroll, 4-0, and defeated Irving, 1-0, on Saturday to claim the title. 
In Thursday's match, Coppell created several opportunities to score, but ultimately could not put the ball to the back of the net. Coppell junior striker Srikar Mulukulta was given a penalty kick, which was saved by Harlan goalkeeper Dominic Pena.
After a scoreless match, Coppell began the penalty shootout. Coppell junior goalkeeper Jacob Campbell blocked the first two Harlan kicks. Coppell scored three of the kicks, one of them being from Mulukulta.
"This was the first game of this year where we didn't put one in the back of the net," Coppell coach Stephen Morris said. "I chose not to make a lot of changes. There were only two guys that came on. Part of the reason why is because the guys on the field never gave me a moment to be able to say 'Let's tweak it, he's not getting things done.' That's not always why you sub, but they were being effective."
On Friday, Southlake Carroll saw a lot of pressure from the Coppell defense to keep the ball away from their forwards.
"I think [Thursday] we sat back a little bit too much and that's just not our style of play," Morris said. "We're good and we're skillful.  If we can apply that pressure and play faster, we're better."
Coppell sophomore forward Luis Mendez-Gil scored with three minutes left in the first half, closely followed by another goal by sophomore forward Jacob McGill. Coppell headed into the second half 2-0 against Southlake Carroll.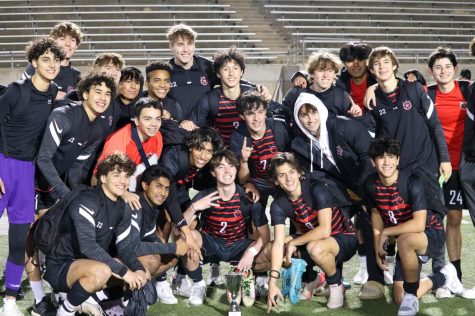 "It's a very big deal," Coppell senior defender Preston Taylor said. "[Carroll's] always been a big rival for us and really good competition. They were probably one of the toughest teams we've played so far when it comes to physicality and athleticism. Our energy was great and we were very aggressive. We kept pushing, created a lot of chances and didn't give up."
In the second half, Coppell continued the aggressive energy and saw two more goals from Mulukulta and Coppell junior midfielder Sam Stone.
"[Thursday] knocked my confidence a little bit, I missed a penalty kick and a couple free kicks," Stone said. "It wasn't my best game and it was a little bit discouraging. But today, putting that ball in, feels like I'm back on track. The whole team was connected from the front to the back. Our press was amazing."
On Saturday, Coppell played Irving to win the NTX Elite Showcase. Taylor capitalized off of a penalty kick in the first half to score the only goal for Coppell.
"Our boys worked so hard this whole tournament to get here and soccer is not always kind, but today their efforts were rewarded!" Morris tweeted.
On Thursday, Coppell travels to Austin to play Katy Jordan at 8 p.m. in the Austin Lakes Elite.
Follow @angelinaliiu and @CHSCampusNews on Twitter.