CHS9 Teacher, Student of the Month recognized by chamber of commerce
Anushree De, Advertising and Circulations Manager
January 4, 2023
When Coppell High School Ninth Grade Center teacher Chaz Bowen was called from his class by CHS9 Principal Dr. Cody Koontz and members of the Coppell Chamber of Commerce, his initial reaction was surprise.
"It was nice to hear that being acknowledged by our staff at my school," Bowen said. "And then, to be surprised by [Coppell ISD Superintendent Dr. Brad Hunt] and the Chamber of Commerce was mind blowing, and I'm still in awe about it."
Each month, one CHS9 student and teacher are selected by CHS9 staff and students. Unlike other months, however, November's recipients were recognized by the Coppell Chamber of Commerce through the Coppell Community Development Foundation (CCDF) program. 
"We recognize teacher of the month in a couple different ways here," Dr. Koontz said. "Mr. Bowen was nominated through the teacher spotlight through his peers."
CHS9 has two different ways of recognizing students. 
"We have an everyday champion every month based on our student profile skills like being a great communicator or being a problem solver and making connections," Dr. Koontz said. "We have about 65 students that are considered everyday champions each month. Our administrative team is the one that reviews those student of the month submissions and decides on who will ultimately be the student of the month."
The Coppell Chamber of Commerce partners with the school district and rotates between Coppell High School, New Tech, CHS9 and Victory Place @ Coppell to honor a student and teacher of the month in conjunction with each school. 
InfoQuest owner Melissa Mieyr, a member of the Coppell Chamber of Commerce, thinks the recognition highlights the chamber's support to students. 
"A big part of the chamber is supporting education," Mieyr said. "As students, you guys are going to be our future employees, business leaders and communicators. That's why it's so important to recognize good students for what they do. That's how it all comes together and supports both the business and education sectors of the community."
Dr. Koontz's experience during the recognition affirmed his trust in Raja's selection.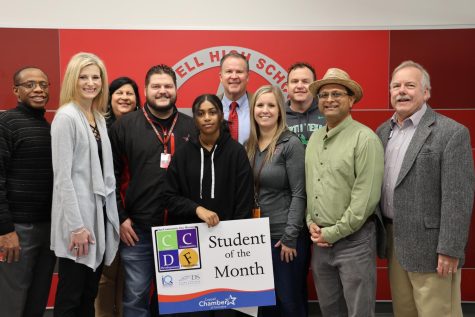 "I was blown away by her humility and appreciation for the recognition," Dr. Koontz said. "She was so gracious and humble at being recognized. The way she handled herself and talked about her experience here as a student was really unique to see."
Bowen's experience being nominated, in conjunction with being recognized by the Coppell Chamber of Commerce, was an affirmation of his passion for teaching.

"I try my very best everyday to give back as much as I can so our kids can be successful," Bowen said. "I get joy everyday by providing that service to students and giving them a sounding board and safe place to share their voice with everyone. That's what brings me joy everyday, and I want to continue doing that."
Follow Anushree De (@anushree_night) and @CHSCampusNews on Twitter.