Treece cultivating learning as confidant to students
Coppell High School Algebra II teacher Hanna Treece brings energy and enthusiasm to her classroom every day, inspiring her students to excel in math and in life. Treece received her bachelor's in secondary math education in December 2011, started teaching the following month and moved to Texas in August 2019. Treece taught geometry in her hometown Lafayette, La., and has taught algebra in all of her four years at CHS.
What is your favorite part of teaching?
Getting to know my kids both in the classroom and outside of the classroom. I enjoy getting to know them and watching them do things that they love. Really getting to know the kid as a whole is probably my favorite part.
Why did you decide to teach Algebra II?
It wasn't necessarily Algebra II but math in general. Growing up, I wasn't the best at math, but it came pretty easy to me. It was just interesting because it's universal, and, to me, it's like a puzzle. You're always going to have a solution.
At an early age I knew I wanted to be a teacher, and I knew I wanted to [teach] high school. I guess you could say it was always embedded in me.
What is your teaching philosophy?
Getting to know the learner as a whole and not just their math skills. It's getting to know them as an individual person and treating them like a young adult because that's what they are. I put a lot of trust, respect and hope in them that they have to take learning into their own hands. They have to make sure that their brain is turned on in class, so they can verbalize what part of the lesson they're struggling with.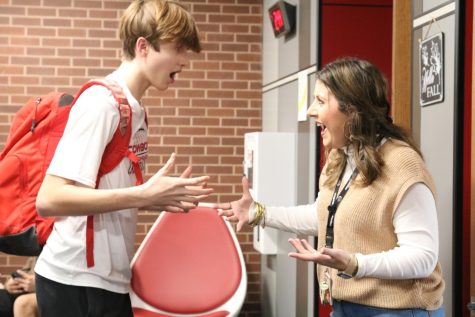 How do you motivate your students to learn?
Other than being silly and singing and dancing? I think that alone does the trick most of the time, but I think showing them that I'm human, I make mistakes and I don't want to do the lesson or do everything. [Sometimes] you know all the steps to the problem, but you just have to persevere and push through. I remind my kids that not everybody loves math or loves to learn, but our brain is a muscle and we just have to work it out.
How is Coppell unique from other schools that you've taught at?
In a physical sense, one of the main differences is that the facilities here are absolutely incredible. [We're] at such an advantage to have these nice, newly renovated schools and classrooms. The other main difference is that this campus and this [Coppell ISD] are one-to-one, meaning every kid has their own device. In my previous school, that was not the case. Incorporating technology and utilizing it to its benefits was one of the main struggles for me. Another big difference is the cultural makeup of Coppell. Moving here really opened my eyes to different ethnicities, backgrounds, religions and learning about their cultures, so it's been really interesting to see [so much] representation at one school.
How would you describe the relationship between you and your students?
I'm a confidant to a lot of them, [but] just because I'm their friend doesn't mean I let them get away with everything. I really try to show my kids from day one that I am vulnerable, honest, real and 100% transparent because I want that in return. I want to get to know the kids for who they are because that's going to help me teach them and figure out how I can reach them if they're struggling.
Follow Ava (@avakjohnson4) and @CHSCampusNews on Twitter
Looking for a teacher who connects with her students? Look no further than @TreeceHanna Read more from @avakjohnson4 #CaptureCoppell