Wrestling secures 5-0 win at Coppell Round-Up
Coppell wrestling coach Chip Lowery has his eyes set on two things this season: a successful team hungry for a spot at the state tournament and a community that doesn't have to worry about being hungry during the holidays. 
Coppell wrestling hosted its annual Coppell Round-Up tournament and food drive on Nov. 18 at the Coppell High School Field House. The Cowboys and Cowgirls went up against five different schools: Colleyville Heritage, Dallas Hillcrest, Frisco Centennial, Lewisville and Dallas Skyline. 
The Cowboys placed first overall at 5-0, while the Cowgirls recorded nine first place wins. 
"We had two kids go undefeated in the events, [senior] Isaiah Francis and [junior] Elijah Houston — Isaiah went 5-0 and Elijah went 4-0." Coppell boys wrestling coach Chip Lowery said.
In addition to being the first wrestling tournament of the season, the Round-Up doubles as a food drive benefiting the Coppell Pantry, which is run by Coppell High School Health Science teacher Bill Borowski. 
"We collected two long-beds worth and a cart full of cans," Borowski said
"
Wrestling is a good platform to give back and we try to always do that."
— Coppell wrestling coach Chip Lowery
Attendees and supporters of Coppell wrestling were asked to bring canned goods and other non-perishable food items to earn admission to the event. This year, the Coppell Round-Up tournament collected much more than the year prior. 
"All the teams that came – their fans, their parents and their wrestlers – supported [the Coppell Round-Up food drive]. We had a tremendous amount of canned goods and food items," Lowery Said
The Coppell wrestling program is constantly showing its support for the Coppell community and will continue to do so throughout the year. On Dec. 16-17 Coppell is ho​​sting its 15th annual winter coat drive with the Santa Slam tournament at Coppell High School.
"Wrestling is a good platform to give back and we try to always do that," Lowery said.
This year's Coppell girls wrestling team is the largest in school history, with newcomers and experienced wrestlers alike.
"We've got 12 girls in the varsity line up, and a whole bunch of them are seniors, we're looking forward to having a good year," Coppell girls wrestling coach Ted Witulski said.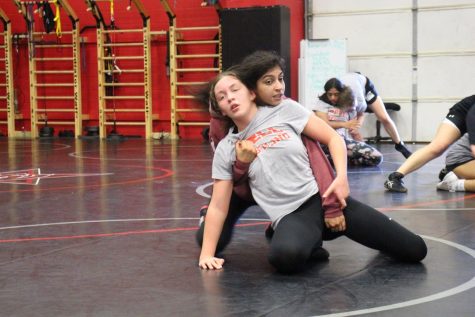 Being that it is the first meet of the wrestling season, the Coppell Round-Up serves as a way for new wrestlers to get a feel for the sport and learn valuable team-building skills. The team has been hard at work as it vies for a berth at the state tournament.
"We just need to keep getting stronger, and understand the sport, and be more aggressive," Witulski said.
Follow Kayla (@kaylagnguyen) and @SidekickSports on Twitter