Corners of Coppell: Marott focusing camera on Coppell
Living as a child in Saudi Arabia, Frank Marott sold skateboards on the side of the road. One day, he was approached by a man of stature who asked, "Are you the man that sold my son the skateboard? I want to show my appreciation." The stranger took Marott down the road to his camera shop for a cup of tea and a gift that would spark his interest in photography. As an unexpected token of appreciation, the man pulled out a Nikon FM camera, a 50-millimeter lens and some film. 
Now, Marrott is the owner of Coppell-based photography studio Concept 7 in Old Town Coppell.
Why are you so passionate about photography?
There's something amazing about going out and taking a photo, processing the film, exposing [it] on a piece of paper, putting it into chemicals and watching that thing come to life. That's the exciting part about photography. It's fun now because you take the SD card and stick it in the computer, and you see it right away. But part of that process is still not there. So it was really the process of mastering exposure, and the development and all that kind of stuff. And then seeing your photos come to life on paper was really the magic part for me. I just love making people smile. I like to think that my approach is to make photos instead of just taking them. So anybody can run around, just take photos, but we make something.
What is a typical day running the studio?
I live here in the building so it's a 20-step commute, and I'm sitting at a desk. I usually check emails and messages in the morning and check on where we are in all of the jobs in the studio, so that when the production team comes in, I can kind of say, "Hey, this is something that we need you to work on." I try to keep everybody on their toes and not get too upset over how behind we are. At the same time, I'm running out to make deliveries and scout locations. Photoshoots, except on the weekends, generally happen after noon, and I do a bunch of corporate photography stuff during the day.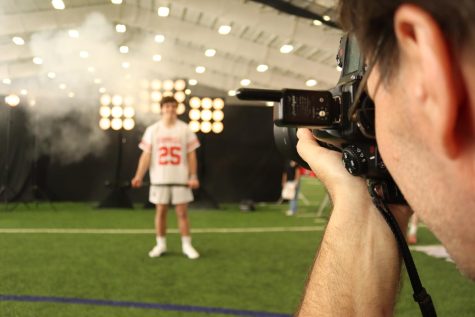 How is Concept 7 different from other photography studios?
I wake up every day, knowing that we're the best there is. But it's because of my background. I attended the Brooks Institute of Photography, moved to Los Angeles and worked for big studios there; we shot cars. I went to New York and shot for big studios there; we shot fashion. I got to know a lot of the people and a lot of the processes. So then when we came here, I worked for a couple of photographers in Dallas and did advertising, which is the top of the heap. I didn't just take a photography class in college and say I want to shoot families and babies. I studied it, was passionate about it and went and worked and interned at all these different places. Then I worked on my own for 10 years in commercial advertising photography, which is very unforgiving. It's a big, large production experience, and that advertising quality is what I bring to our high school senior level, sports, etc. We tried to bring that same feel to it.
What future goals do you have for Concept 7?
I kind of let the wind blow. I hate to say it like that, but my philosophy is always to learn. We're always looking at trends, and because my passion is in advertising, I'm bringing that level of photography to sports, portraits and shoots. We heavily invest in a new idea, and if we go we promote it, that grows the business which just grows everything, right?
Follow Meghna @meghnakulkarnii and @CHSCampusNews on Twitter.