A light in the classroom: Corley fostering meaningful connections with students
Immersed in her own world while playing with a doll-sized school, a young girl aspires to be an educator. Soon enough, Coppell High School English II Honors teacher Hannah Corley would develop an ardent passion for teaching, where her childhood dream and favorite pastime became a reality. 
Corley is one of many new faces at CHS, having graduated from Baylor University with a degree in Secondary Education this past spring. Although this is her first year teaching, Corley has nurtured her passion and teaching skills throughout her college career. 
"Baylor has an amazing education program where they get you in the classroom starting your freshman year of college," Corley said. "I've been in the classroom [since], slowly gaining more autonomy." 
She met her best friend Allison Garrett co-teaching English at Robinson High School in Waco.
"In my senior year of college, I was teaching the full year with a mentor teacher, Allison Garrett, who's head of the English department [at Robinson]," Corley said. "Allison is still one of my best friends and equipped me with all the tools that I needed to be successful on my own." 
To Garrett, Corley made a similar impact. 
"I didn't have to do much guiding honestly," Garrett said via email. "She needed a place to sharpen her craft that would encourage risk-taking and relationship-building. She took it and ran with it. Corley changed me as a teacher and a person for the better. I am more joyful, more patient, and have more empathy because I crossed paths with Ms. Corley, and I thank God for it every day." 
Despite her passion in teaching as a child, teaching wasn't always in the books for Corley. 
"As I [grew older], my interests became sports like volleyball and soccer," Corley said. "Unfortunately, I had some injuries, so I got really close with my trainers and physical therapist. I started getting really interested in that because I love learning how the body works and functions, and how everything moves together in one full unit. I also knew I wanted to work with high schoolers because I went through a lot when I was in high school, so I was really passionate about that age group." 
After taking an Anatomy and Physiology class in her senior year of high school, Corley, however, decided her weak stomach could not handle it. She, instead, turned to her junior year English teacher Kelly Stanley for advice.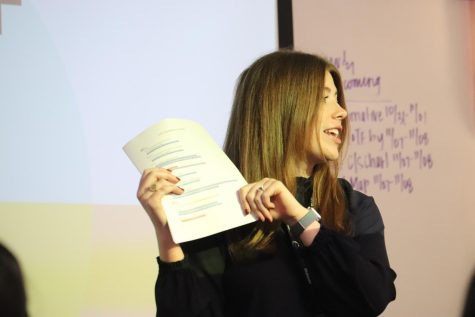 "I told her my worries about declaring a major as I was going to college that fall, and she said, 'Hannah, did you ever think about teaching?'" Corley said. 
After this conversation, Corley realized all the signs in her life that were pointing her towards that direction. She had spent summers in the classroom helping the various teachers in her life set up, and evenings as a kid toying with dolls and recreating moments at school. 
After her realization, Corley decided to major in Secondary Education at Baylor. She was amazed at how at peace she felt with her decision. 
"My freshman year at Baylor University, they put me in a seventh grade English class for my first semester, and I loved it," Corley said. "It was so amazing, and I felt an overwhelming sense of peace and assurance that this is where I'm supposed to be. I decided that this is what I want to do for the rest of my life. It is amazing, and it's the most rewarding thing ever, getting to do life with students."
Corley actively engages with her students through a multitude of lesson formats and strives to be an understanding teacher, who learns from her students as much as they learn from her. 
"She will dance and sing, do accents, tell personal stories that leave a lasting impression, and even allow her students to laugh at her and teach her something new if it means they are interested in what they're learning," Garrett said via email. "She doesn't try to flaunt her intelligence (although she could) as many teachers do. She explains things at a level that every student can access."
CHS sophomore Sriya Meduri values the hands-on learning environment Corley has cultivated. 
"The best thing is that she's constantly having us be interactive, and in that way people aren't zoning out," Meduri said. "It's hard to stay engaged when you're just listening to someone talk to you. Rather, her classes are more interactive and she's talking to each and every one of us. It helps me to learn and understand certain aspects of writing that I normally don't get."
Corley's ways of teaching also help students maintain a growth mindset and nurture their skills in reading and writing. 
"She cares for every one of us and our personalities before she cares about a grade on paper, and she makes that clear," sophomore Abigail McKeel said. "With her lessons, I've been able to talk to my peers a lot more and see how they write or choose to do something different and that helps me grow." 
Corley has a system of houses, where each student gets sorted into one of the five: Lionheart, Guardia, Eagleton, Alcwin and Cyprian. Students earn house points all year long, and the house with the most points receives a prize at the end of the school year. One such activity is Word of the Day.
"She gives points whenever your table group cleans up after itself, completes an assignment, or when we have our IDs on. It just helps learners be very engaged and motivated," Meduri said. "She puts up a word on the board and it's usually a word like most of us have never heard of. We build it into a sentence, and then, she encourages people from each house to stand up and discuss." 
Corley prioritizes the importance of language learning, and wants to provide an authentic learning experience for all her students. 
"It is cool to help give students a space to explore themselves, the world around them, and explore why English matters," Corley said. "The best part is them figuring that out and finding those different connections because each of them has a different mission."
She seeks to use her platform as an educator to impact as many lives as possible through a variety of mediums, which, for her, means fostering a safe space and ensuring each student knows they are loved.
"[Her classroom] feels like a safe place. She describes it as our space too and not just her classroom," sophomore Khushi Verma said.  "She prioritizes our safety before our education by making sure we all have our IDs on, and educating us about what's been going on."  
Her formative experiences in school and as a child have only spilled over into her career, according to Garrett.
"Ms. Corley is truly a little miss sunshine," Garrett said via email. "Her friends voted her 'Most Likely to Brighten Your Day', and there has never been a more suitable superlative for a person. Her laugh is infectious, and she makes everyone around her happier and better."
Follow Divya Sivalenka (@DivyaSivalenka) and @CHSCampusNews on Twitter