Anderson spotlighting student talent in classroom
Coming into the 2022-2023 school year, a new face lights up the English department. Coppell High School English II teacher Matthew Anderson strives to make his classroom feel like a home. Inspired by his past teachers who helped him throughout high school, Anderson encourages students to think critically and to showcase different talents in his classes.
What made you want to be a teacher?
I wanted to become a teacher because I had a really great experience as a student, and I had some teachers that meant a lot to me and made a big difference in my life. When I thought about what I wanted to do as an adult, I kept thinking about the teachers who impacted me. I decided that I really wanted the chance to be able to do that for someone else.
How would you describe your teaching style?
Everybody learns differently, and everyone has different personalities and strengths. As a teacher, I want to get to know my students well enough that I can base the learning off of their personalities as opposed to just having a very rigid, strict class environment. I want the opportunity to spotlight different strengths and personalities in the classroom. I do this by trying to get to know them, and it's important for me to get across that the classroom is all of ours. For example, I give students "leadership roles," where certain students are in charge of certain things.
Does the way you teach reflect your own experiences when you were in high school?
I took a lot from some classes, and I didn't from others. It was easy to recognize which classes felt more like home to me, and where I felt more comfortable. It was a good learning experience for me because I could see how I wanted my classroom to be based on my good and bad experiences.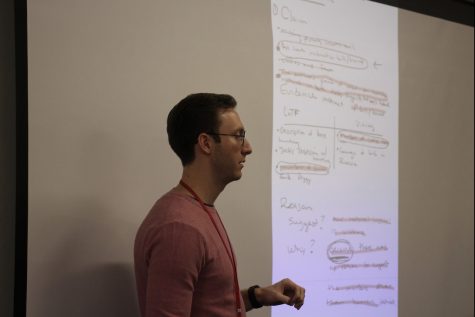 What drew you to teaching English?
Personally, I love to read; I have since I was little. When I was a student, I liked English a lot because I was good at it, and I feel like people tend to like the things that they are good at. Now that I'm a teacher, the real reason I love English is because rather than it being only about reading and writing, to me, it's about the skills we need to be good thinkers. If we can be good thinkers, then it makes us more compassionate, and it makes us better to one another. I love teaching English because I love being able to think with my students about different interesting topics and difficult questions.
Did you always want to become a teacher?
No, I did not. For a long time growing up, I didn't want to be a teacher, and I didn't know what I wanted to do. When I was a student I didn't really see everything that went into being a teacher, and I didn't really respect it until I decided I wanted to become one. Also, there were a lot of teachers in my family, and I wanted to do something that no one else has ever done. I think what changed my mind is the teachers I mentioned before who really helped me through high school, and how important they were to me. Now that I'm older, I realize how important this job is, and how much it means to me, which really changed my perspective.
What's your favorite book that you read in your English classes?
Honestly, my favorite thing that we do in class is whatever we're reading at the moment because I can get sucked into a book very easily. We're just finishing up our Lord of the Flies unit, which I thought was really interesting because it was about kids, but the themes in the novel are so applicable to everyone.
Are there any hobbies you have outside of being a teacher?
I really enjoy singing, and I sing in a choir outside of school. When I was attending New York University, I did my masters in musical theater, so I love Broadway. Any chance to see live theater or to be able to participate in it is something I really love. My favorite musical is Into The Woods. Lately, I've really liked reading poetry, so I'm really hoping that we can do a poetry unit sometime soon in class.
Follow @anvita_bondada and @CHSCampusNews on Twitter