Student of the week: Javvadi running reliable baking business as a sophomore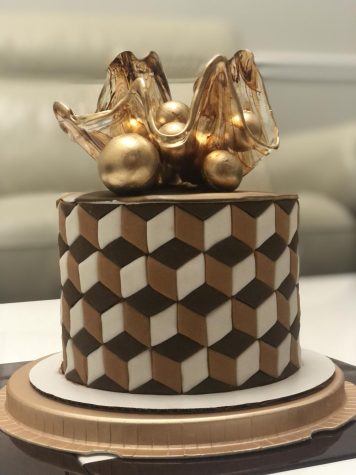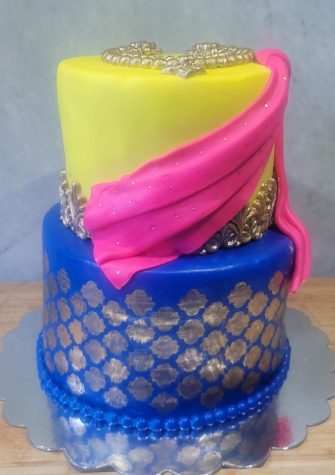 Coppell High School sophomore Laasya Javvadi presents a two-layered cake meant to mimic an Indian Saree. Javvadi enjoys fulfilling orders for numerous clients. Photo courtesy Laasya Javvadi
From studying hard in school by day to baking by night, Coppell High School sophomore Laasya Javvadi runs her very own business centered around cakes and other delicious desserts. Her business is over a year and a half old now, with many more treats to come.  
What inspired you to start your business?
Honestly, it was my mom, [Prashanthi]. I grew up watching her decorate cakes, and then I made a cake for my dad's birthday and I was like "Wow, this is amazing, I love this." Seeing the joy on someone's face, I just love that. It's a fun, relaxing thing for me to do, so it's not just for the customer's benefit. It's also for my benefit because it helps me de-stress.
How have you balanced your business with your school and social life?
It's going better than I thought it was going to go. I thought I would have to put a lot more time into cakes, and I wouldn't be able to take as many orders. But when you do private events, it's a lot less orders than you would think, and a lot more money earned. At the same time, I always take orders two weeks before the cake or dessert is needed, so I have time to plan around and schedule. I usually try not to bake on Fridays to make time for myself if I need to get homework done. I like to keep Fridays to the side, but I bake most other days of the week. 
What troubles have you encountered with running a business?
There are certain decorations like fondant flowers–sugar-based flowers–that are troubling. I got a cake order once, and they asked me, "Could you put a bunch of sugar flowers on the cake instead of actual flowers because we want to eat them," and that went so bad for me. Now, when customers ask for new things, I say, "Oh, I've never done that before, you might need to give me some time to get it ready." Also, sometimes customers don't give an order two weeks in advance. They say that they need it in a week, and I don't want to turn them down but I have to because I won't be able to plan around the week ahead of time.
What advice would you give to another high school student wanting to start a business?
Take time for yourself and try to give yourself a social life or else you're not going to be able to do this, and always have people that can help you. For me, my mom is always helping me with my business, so always have someone, it doesn't even have to be a family member, it can be a friend that can help you with your business, so you don't have all the pressure yourself.
What is your favorite type of cake?
It's very basic but I've had my own custard chocolate cake recipe, and I love it. 
Follow @CHSCampusNews on Twitter.