Bhattacharyya bolsters cross country team, leads team to second place
In June 2021, the Coppell High School cross country team faced uncertainty after former coach Nick Benton resigned. The team looked upon its upcoming fall season and realized its lack of leadership. 
However, Coppell senior cross country runner Vedant Bhattacharyya stepped up and instituted a new workout plan and leader that the team could look up to as the team awaited its new coach..
Bhattacharyya began running cross country in seventh grade, but his love for running began in elementary school under the guidance of his older brother, 2021 CHS graduate Rith Bhattacharyya.
"[Rith] really showed me the sport, he was everything I wanted to be when I started because I wasn't fast by any means. I was actually really slow and wouldn't even place anything for a good few years," Bhattacharyya said.
When Bhattacharyya reached Coppell Middle School North, his commitment to the sport grew and he began placing at meets. He placed third in his seventh grade year at district, and set two school records in the 1600m race in middle school track. As he transitioned into high school, Bhattacharyya entered a much more competitive program with more experienced runners. 
"Freshman year, I had some really great seniors [to look up to]," Bhattacharyya said. "We were a really tight knit team back then too, and they were some of my closest friends. They showed me what it means to be dedicated not only to a sport, but to another person. Every time we ran, it felt like we were running for each other." 
Benton had instituted a system which consisted of three main workouts, all of which were intense and provided athletes with little recovery time. This was problematic due to the injuries the workouts caused and the overall stress it placed on the runner's bodies, which caused the team to feel less confident heading into the season and led to a rough sophomore year for Bhattacharyya. 
"In my sophomore year I wasn't performing my best, I was running a lot slower than I did when I entered high school so it was tough," Bhattacharyya said. "But my coach taught me that tough times don't last, but tough people do and that was a hard thing to take away, because I had never been challenged like that, mentally or physically." 
While his sophomore year posed many challenges to him as an individual, it provided Bhattacharyya with the necessary strength to lead the team in his junior and senior years. 
"There was a void [after Benton resigned] because he was the center of our team at that point,"  Bhattacharyya said. "Everyone was looking up to him for workouts and he had his own vision. I knew I had to fill that gap instinctively."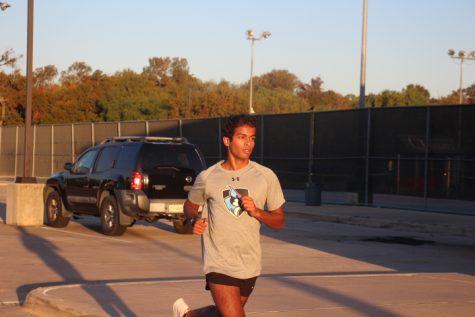 Bhattacharyya had already been planning his own workouts for years and finding routines that suited his individual running style. As he stepped up as a leader, he shared his workout plan with others and described the science and reasoning behind his approach. 
His approach included much less rigorous workouts throughout the week, which provided runners with ample time to rest and recover, to prepare for harder workout days. 
"We haven't been as injured as we have in the past, and it's kept us healthier and we continue to get better as the year goes on," Coppell coach Landon Wren said.
Because of the easier workouts, as well as their variation, the runners are able to push themselves more on their harder days, similarly to how they would in a race. 
"We left room for more types of workouts and our easier days are way easier so we can go harder on the harder days." Coppell [grade] cross country runner Henry Henze said. "That definitely helped us so we're actually prepared to run fast when we need to."
As a result, the Coppell boys cross country team finished third in the Class 6A State Meet. Additionally, runners such as junior Dominic Piccolo have seen a tremendous improvement in their times, Piccolo has cut six minutes from his overall time.
Despite the success of the individualized workout plan itself, much of the team's success this season lies with Bhattacharyya as a leader. 
"As a leader, he's going to be tough to replace," Wren said. "The kids gravitate towards him and he sleeps and breathes cross country. He's a runner for us but one of our assistant coaches as well. As a coaching staff, it's great to have someone that is in the trenches with them, going through the workouts with them, that's as knowledgeable as Bhattacharyya. I haven't been around a cross country kid that has the knowledge that Bhattacharyya has and it's incredible just to hear him talk about it."
Follow @SidekickSports on Twitter.