Dayglow gets people in motion with energizing concert
DALLAS – Standing outside in the rain, I huddled underneath the black umbrella my friend was holding and awaited doors to open at South Side Ballroom. Although we had gotten there at around 6 p.m., (which is fairly late if you want a good spot in the pit), the rain had discouraged others to come to camp earlier. I felt the cold rain seeping into my red Converse and shivered as the breeze blew  raindrops onto my face.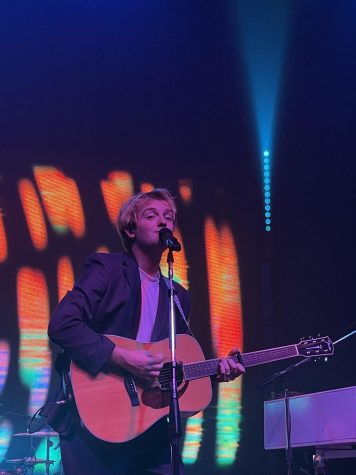 I had been looking forward to the Dayglow concert since prior to the COVID-19 lockdown and I couldn't wait to hear some of my favorite tracks such as "Listerine" or "Fuzzy Brain" performed live. 
At exactly 9 p.m., Dayglow began his performance with his electrifying hit "Radio." The bright neon colored lights mixed with the high swells in the song made for a great atmosphere, with the crowd dancing within the first two minutes. He continued this energy throughout his entire set, greatly juxtaposing the gloomy, cold weather that existed outside. Dayglow played several songs from his Fuzzy Brain album, as well as Harmony House and People in Motion. 
Dayglow thanked the crowd several times, keeping the energy show of the alive by interacting with his band and dancing on stage. After playing a couple songs, he reminisced on his past and explained that he was born in Aledo and had attended many shows at South Side Ballroom growing up. He introduced his band, most notably drummer Brady Knippa who had attended Coppell High School. Dayglow played two encore songs before ending the night at around 10:30 p.m. 
At 8 p.m. sharp, Dayglow's opener, Ritt Momney, began performing. He thanked the Dallas crowd several times, singing tracks such as "Set the Table" and his biggest hit, the remix of "Put Your Records On" by Corinne Bailey Rae. 
"Dallas was great," Momney said. "This was the biggest venue we've played on this tour so far, so that was really fun. The Dayglow crowd is always so receptive. So cool. So fun, so young." 
I thoroughly enjoyed his set, with a mixture of slower ballads and uptempo songs making for a perfectly balanced performance. He wrapped his set fairly quickly, ending around 8:45 p.m. After the show, he and his band took pictures with fans at the merchandise table. 
The punctuality, energy and overall atmosphere made for a great show. For $25 a ticket, this was definitely an experience I do not regret. 
Follow @angelinaliiu and @CHSCampusNews on Twitter