Cowboys wallop the Wildcats to set up home playoff game
Strike One! Strike Two! Strike Three! Football – just like baseball – has a rule of three; three and out. Though they struck out of the red zone twice, the Coppell football team roared back to score three straight touchdowns for a 34-7 win against Plano on Thursday night at Buddy Echols Field.Coppell (9-1) will be back home next week as it hosts McKinney in the Class 6A Region I bi-districts playoffs at 7 p.m. Friday at Buddy Echols Field. 
Despite initially struggling to convert its red zone opportunities, a 38-yard catch by junior wide receiver Baron Tipton set up Coppell's first touchdown of the night and gave the Cowboys a lead they wouldn't relinquish. 
Overcoming initial struggles has been a theme of the Cowboys all season – giving up 35 plus points in their first three district games – the team has come together and is playing its best football right as the playoffs begin.
"For about the last three to four weeks, they've been just getting better and better every week; hats off to them," Coppell coach Antonio Wiley said. "We run a complex style of defense and they're starting to understand that and starting to execute a lot better."
For all the offensive plaudits the Cowboys have had all season, this was the game their defense came to play, holding Plano to one red zone opportunity all game.
"
"Everyone on defense was an all-star, we collapsed to the ball on every play, but the key player(s) were the entire D line. They stepped up to stop the run and made the game easy for us.""
— Braxton Myers
The offense needed a little more time to get into gear, with its first two drives ending in field goals; however, following Tipton's touchdown, the team revved up with a sideline catch by Tipton setting up senior wide receiver Sean Simpson's touchdown, ending the half with Coppell holding a 20-0 lead.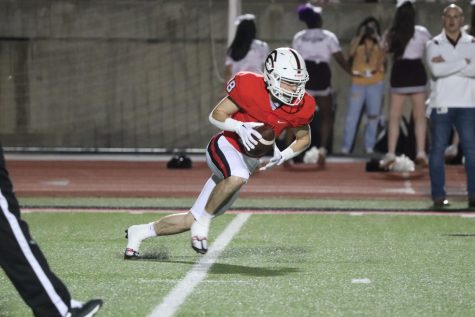 After senior Ike Odimegwu's 17-yard tackle-for-loss forced the Wildcats to punt, senior quarterback Jack Fishpaw – not one to be outcompeted – had an exciting 20-yard rush through the Wildcat defense, bringing the Coppell faithful to its feet. Fishpaw's run set up a 30-yard score by senior wide receiver Zach Darkoch to make the game 27-0. 
Wiley loved the effort of his quarterback. However, he wants Fishpaw to be cautious when he elects to take off down field. 
"It's great for momentum, but I told Jack, 'You weigh 160 pounds soaking wet, quit doing that,'" Wiley said. "It's hard to pull the reins back because he wants to compete. I'm so proud of him and how he leads this team."
Plano's sole touchdown brought some life back into the game, but senior running back Blake Robbins responded with a two-yard touchdown. 
"They're going out there and doing their job and that's what it's gonna take for us to go to the promised land," Coppell assistant Abu Conteh said.
The Cowboys now begin its playoff run as a confident team, believing it is playing its best football. 
"Everybody told us we couldn't, people told us we were gonna be fifth in this district, but here we are: second in the district, 9-1, with the expectation to win it all," Wiley said. "It looks like we're playing our best football. If we just keep building on that, I think we'll have a shot against anybody. We're playing lights out right now and if we continue to play like that? Sky's the limit."
Follow Sahith (@SahithMocharla) and @SidekickSports on Twitter.