Teacher of the Issue: Orlopp hops through jobs before finding his calling
Coppell High School English teacher Richard Orlopp grew up wanting to be a superhero. His plan was to work out and get into peak physical condition like Batman before going out and solving crimes as a vigilante. 
Later, he wanted to become a rapper under the name "The Def Child." His mother wanted him to get into computer science. 
Instead, he grew up to become an English teacher.
"I had a couple of teachers in high school who had really inspired me," Orlopp said. "And I had always loved reading and writing, so I wanted to be a teacher."
From Willingboro, N.J., Orlopp attended Rutgers University, originally trying to please his mom and get a degree in computer science before switching tracks and double majoring in English and journalism. 
After graduating from college, Orlopp took time doing other things before he started teaching. He worked as reporter for The Windsor-Hights Herald, worked at the Grand Hyatt hotel in New York City and wrote poetry before coming down to Texas and getting certified in teaching at the University of North Texas.
Orlopp started teaching at Flower Mound High School, with 15 of his 22 years of teaching experience at Flower Mound. He has since been teaching at Coppell for seven years.
CHS English teacher Alexander Holmes had Orlopp as an English teacher when he was a sophomore at FMHS, 16 years ago. 
"[Orlopp] is exactly the same as he was 16 years ago," Holmes said. "The way that he delivers his lessons, the way that he presents his humor, that's how it's been ever since the first day. He's the same guy he's always been, if anything he's become more confident. He's a great guy to work with."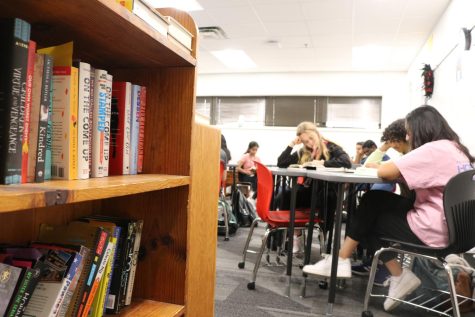 Holmes was inspired to become a teacher after his experiences in high school with good English teachers, including Orlopp.
"The general nature of his teaching style was that he was aloof [and] less hands on than other teachers," Holmes said. "Other teachers would be very strict, very regimented, but he let us make the mistakes we needed to make in his class. He was trying to let us as teenagers grow into ourselves. I was a very introverted and shy person and he managed to find a way where I was still able to feel comfortable and start breaking out of that shell."
Orlopp's current students agree that his teaching style has not changed since Holmes was a student. 
"He's a very fun individual. He tries to make our learning something we can get involved in and experience," CHS senior Swara Akinepalli said. "He gives us a lot more freedom than most teachers do on a daily basis. It really helps because it allows me to understand the content better and enjoy the learning."
Outside of teaching, Orlopp has one major hobby: collecting shoes. A self proclaimed "sneakerhead," Orlopp has a small shoe collection in his classroom and a bigger one at home.
"I like shoe collecting because really good shoes have a narrative to them," Orlopp said. "I like the stories. That really sells me on the shoes. Sometimes they just look cool, but if there's a story behind them, that makes them even more interesting."
Orlopp compares picking a favorite shoe to picking a favorite out of his dogs, impossible. The hobby started during COVID-19. He started reselling and buying more shoes with the money he received. He now finds many interesting shoes on "sneaker Twitter."
Typical of an English teacher, Orlopp also loves to read in his free time and prefers fiction over nonfiction, and likes to read international books, but tries to read books he normally would not. He's currently reading Boom Town by Sam Anderson, which is a nonfiction book. He compares picking a favorite book is like picking a favorite shoe. 
"One of things that drew me to English is that I like narratives. I like stories," Orlopp said.
During student teaching, Orlopp decided he preferred to teach older students because of the students and subject matter.
"Especially teaching IB, it's basically a college course so the literature you can read, the amount of depth you can bring to it," Orlopp said. "I can't imagine doing that in middle school." 
His favorite part of teaching is getting to know the students throughout the school year.
"I enjoy the day to day interactions," Orlopp said. "Right around the spring, I've really gotten to know my students. I know what they're into, their ins and outs, who's funny and who's serious. It's a reward at the end of the year, to have been a small part of all these really amazing kids' lives."
While Orlopp has not made his childhood dream of becoming a superhero come true, he's helped more students as an English teacher than he could have as a superhero. 
Follow Iniya (@iniya_v) and @CHSCampusNews on Twitter.